The Invisible Erik Paulsen
No member of the Minnesota congressional delegation has received less attention in the national media since Paulsen was first sworn into office in 2009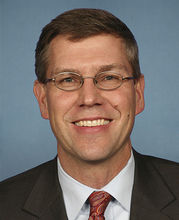 While no Minnesota U.S. House member could possibly compete – even if they wanted to – with the kind of attention Michele Bachmann was courting with the national media even before she jumped into the presidential race, given the possibility that Bachmann will not run for her 6th CD seat in 2012, the opportunity is ripe for a new member of the Gopher State congressional delegation to emerge as the go-to media darling.
That person is not likely to be 3rd CD Republican Erik Paulsen.
Whether for reasons of political strategy or simple personal preference, Representative Paulsen has a congressional record (and personal life) over the last 2+ years that has generated the least amount of national buzz among Minnesota's U.S. House members – at least as measured by coverage in the national broadcast media.
A Smart Politics study of news transcripts from ABC, CBS, CNBC, CNN, FOX, MSNBC, and NPR (via Lexis/Nexis) since January 2009 finds that Erik Paulsen has appeared or been mentioned on far fewer broadcasts than any member of the Minnesota U.S. House delegation, including freshman Republican Chip Cravaack, who has been in office only eight months during this span.
Paulsen has been mentioned just three times over the last 32 months since being first sworn into office in D.C. – twice on FOX News and once on MSNBC.
On MSNBC, Paulsen got name-dropped on the Rachel Maddow Show on June 24, 2010 in the midst of one of Maddow's sarcastic rants during the BP oil spill distaster:
"What should be even more politically damaging than doing fundraising with Joe Barton? How about this? How about fundraising directly with BP? Cut out the middle man. That is what Republicans Marsha Blackburn and Erik Paulsen did this afternoon. They held a $1000-a-plate lunch for a Republican candidate for lunch, Cory Gardner of Colorado."
On FOX, Paulsen was given a one line drop in a video clip on Beck on March 18, 2009 on AIG executive bonuses and a different video clip quote on the subject one hour later that night on Special Report with Brett Baier.
And that's it.
Contrast that coverage to each of Paulsen's non-Bachmann Minnesota U.S. House colleagues who have appeared or been mentioned in an average of 55 broadcasts over this 2+ year span.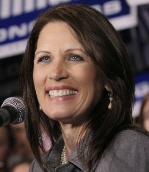 Bachmann, who was in another stratosphere when it comes to national political coverage and media appearances even before her presidential bid, came in at 3,098 mentions by this measure of national media attention. (Multiple mentions on the same broadcast were not counted).
DFLer Keith Ellison was next, appearing or being mentioned on 194 broadcasts, followed by Republican John Kline at 25, DFLer Tim Walz at 19, DFLer Betty McCollum at 16, and DFLer Collin Peterson at eight.
DFLer Jim Oberstar received 60 mentions during his last two years in office until January 2011 when his 2010 opponent, Chip Cravaak, took his place. Cravaak has already notched 11 mentions in 2011 alone.
And what does all this mean?
For one, it means that Representative Paulsen is not getting asked to appear in national media outlets, or, if asked, he is declining.
Secondly, Paulsen's relative lack of mentions in the national media vis-à-vis his Minnesota colleagues also means he is not getting talked about for who he is (e.g. no scandals or foot-in-mouth statements) or how he legislates (e.g. no headline-making votes or legislation authored).
And why might this be the case?
For starters, Paulsen represents one of the few districts across the nation (as it is currently drawn) without a partisan tilt.
Charlie Cook's Partisan Voting Index tabulates MN-03 as "even" – one of just nine districts in the country with this designation. (Meaning, in the 2004 and 2008 presidential elections, the district performed even with the national average).
As a result of the partisan makeup of his district, Paulsen may be trying to keep a low profile in order to stay off the radar of would-be disgruntled conservatives who may be unaware of Paulsen's relatively moderate voting record in the House, and liberals who are waiting to pounce on any mistake he might make which, if highlighted in the media, could turn off the important moderate vote.
To be sure, Paulsen has legislated moderately – at least relative to his own party.
National Journal ranked Paulsen as the 35th least conservative Republican in 2010, out of the 173 GOPers who received complete grades – or in the bottom 20 percent.
But Paulsen's inability or unwillingness to get on the national radar cannot wholly be explained by a fear of upsetting the delicate political balance of the Gopher State's 3rd CD.
For example, the district's moderate ideology did not stop Paulsen's (popular) predecessor Jim Ramstad from getting his name into the national spotlight.
During Ramstad's last 32 months in office, he appeared or was mentioned on 23 national broadcasts: 12 on CNN, seven on NPR, two on ABC, and two on FOX.
Ramstad's name surfaced with regards to a whole host of issues during this span such as stem cell research, government fraud, the U.S. role in the War in Iraq (and his departure from President George W. Bush), and his pet legislative project, mental health.
Of course, in the end, Paulsen is not elected by the nation, but by his district.
And the extent to which Paulsen is mentioned in the Minnesota media is a subject for another study.
Follow Smart Politics on Twitter.