Paul and Romney Lead 2012 GOP Field in Strongest Anti-Washington Rhetoric
Ron Paul and Mitt Romney have levied the most attacks against the role, scope, and effectiveness of the federal government during the first four Republican debates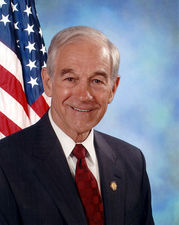 While no Republican presidential candidate is campaigning on the platform of making the federal government larger and more powerful, the extent to which the Party's 2012 field is explicitly attacking Washington, D.C. has varied significantly in their respective campaigns thus far.
Attacks against Washington have ranged from its insider crony capitalism, to its inefficiency, its encroachment on the principles of federalism, the dependency it creates among its citizens, its intrusion into individual liberty, and to the increase of its scale and growth and cost of its programs.
But which candidates are laying down the gauntlet against D.C. the quickest and most frequently and which have been less vocal in their critiques of the federal government?
A Smart Politics review of the rhetoric used in the four major GOP debates held over the last three months finds that Ron Paul and Mitt Romney currently lead the field with the largest average number of attacks – at 9.5 and 9.0 statements per debate respectively.
Michele Bachmann is next at 7.0 critiques per debate, followed by Rick Perry at 5.5, Herman Cain at 4.8, Newt Gingrich at 4.5, Rick Santorum at 4.0, and Jon Huntsman at 1.0. Former candidate Tim Pawlenty averaged 8.0 during the two debates in which he participated.
That Representative Paul – the most libertarian GOPer in the field – leads the way in anti-Washington statements is of little surprise. Paul has berated the government's involvement in everything from air traffic controllers, to consumer protection, to the National Weather Service, to a federal marriage amendment.
Paul has tallied 38 such criticisms to date across the four debates, including these zingers:
"Just remember, 9/11 came about because there was too much government. Government was more or less in charge." (California)
"And, I mean, do we need the federal government to tell us whether we buy a safe car?" (California)
"I want less government involvement. I don't want the federal government having a marriage police." (Iowa)
Romney's appearance near the top of the list may be surprising, considering he is one of the two candidates viewed as 'moderate Republicans' in the field – along with Utah Governor Jon Huntsman, who has tallied the fewest attacks on D.C. to date.
Romney nearly matches Paul with 36 criticisms on the federal government in the prime time debates thus far.
Romney's critiques have been less colorful and less controversial than Paul's and have largely focused on the growth of government and the burdens Washington places on the private sector which has in turn impeded an economic recovery:
"There is a perception in this country that government knows better than the private sector, that Washington and President Obama have a better view for how an industry ought to be run. Well, they're wrong." (New Hampshire)
"Don't have government try and guide this economy." (New Hampshire)
"The right answer for America is to stop the growth of the federal government and to start the growth of the private sector." (Florida)
"Today, government consumes 37 percent of the economy. We're inches away from no longer having a free economy." (Iowa)
Romney has also tried to tout his role as a government "outsider":
"Look, if I had spent my whole life in government, I wouldn't be running for president right now." (California)
"If people want to send to Washington someone who spent their entire career in government, they can choose a lot of folks." (Iowa)
Interestingly, Romney has been less quick on the draw in his critique of government in recent debates – coinciding with the entry of Texas Governor Rick Perry into the field.
Romney issued 17 attacks against Washington and the federal government in last June's New Hampshire debate, followed by 10 in Iowa early last month, and then just five in California and four in Florida over the last week while sharing the stage with Perry.
Presumably, the former Massachusetts governor knows he cannot match Perry in anti-Washington Tea Party angst and is now shifting his strategy to (re)paint himself as a safe (i.e. 'electable') moderate.
Perry, meanwhile, has levied 11 attacks at Washington and government during his first two debates, including his introductory remarks in Florida's Tea Party debate:
"I simply want to get America working again and make Washington, D.C. as inconsequential in your life as I can."
But although Washington has largely been a punching bag for the GOP, Florida's Tea Party gathering actually recorded the fewest number of attacks of the four debates thus far with just 26 collectively, compared to 49 by the candidates in New Hampshire, 35 in Iowa, and 38 in California.
This was due in part perhaps to most candidates spending significant portions of the debate defending the federal governmental role in Social Security after Perry's controversial remarks last week, as well a call for more federal governmental involvement in other programs such as border enforcement.
Below is a selection of some of the juicier critiques of the more than 150 levied against Washington and the federal government by the 2012 hopefuls over the last few months:
"If the federal government can force American citizens or if a state can force their citizens to purchase health insurance, there is nothing that the state cannot do." – Michele Bachmann (Iowa)
"If 10 percent is good enough for God, 9 percent ought to be good enough for the federal government." – Herman Cain (California)
"I would be prepared to take as many people from Homeland Security's bureaucracy in Washington and move them to Texas, Arizona and New Mexico, as are needed, to control the border." – Newt Gingrich (Iowa)
"That's what government does: mandate, mandate, mandate." – Ron Paul (California)
"Every time you have an occasion to take something from the federal government and send it back to the states, that's the right direction." – Mitt Romney (New Hampshire)
"We have the worst results when the federal government gets involved, and especially by dictate to impose something like an inoculation on an innocent 12-year-old girl." – Michele Bachmann (California)
(On tax code overhaul) "Now I've been told by some people, well, you can't get that done. I say why? Well, because you don't know how Washington works. Yes, I do. It doesn't." – Herman Cain (Florida)
"I think this super committee is about as dumb an idea as Washington has come up with in my lifetime." – Newt Gingrich (Iowa)
"There shouldn't be any government assistance to private enterprise. It's not morally correct, it's illegal, it's bad economics." – Ron Paul (New Hampshire)
"Get the government off my back." – Tim Pawlenty (New Hampshire)
Anti-Washington / Government Statements by Republican Presidential Candidates in First Four Debates
| | | | | | | |
| --- | --- | --- | --- | --- | --- | --- |
| Candidate | NH | IA | CA | FL | Total | Per debate |
| Paul | 14 | 9 | 12 | 3 | 38 | 9.5 |
| Romney | 17 | 10 | 5 | 4 | 36 | 9.0 |
| Pawlenty* | 13 | 3 | — | — | 16 | 8.0 |
| Bachmann | 3 | 12 | 6 | 7 | 28 | 7.0 |
| Perry | — | — | 6 | 5 | 11 | 5.5 |
| Cain | 3 | 4 | 9 | 3 | 19 | 4.8 |
| Gingrich | 3 | 4 | 3 | 8 | 18 | 4.5 |
| Santorum | 6 | 2 | 2 | 6 | 16 | 4.0 |
| Huntsman | — | 3 | 0 | 0 | 3 | 1.0 |
| Total | 59 | 47 | 43 | 36 | 159 | 5.1 |
* Exited the race after the Iowa debate. Data compiled by Smart Politics.
Follow Smart Politics on Twitter.