Ron Paul Raising Money at Twice the Rate of 2008 Campaign
Paul is netting $80K per day this cycle compared to $40K per day at this point four years ago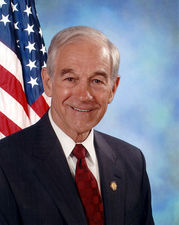 Ron Paul's announcement today that his campaign raised north of $8 million in the third quarter of 2011 is yet another sign of the increased resonance his campaign is having with Republican voters compared to his previous White House bid.
Representative Paul has now raised more than $12.5 million for his 2012 campaign to date, or more than $4.2 million in excess of his haul at this point of the campaign through the third quarter of 2007. Paul went on to raise $34 million during the 2008 cycle.
But Paul's fundraising numbers are actually more impressive than this data suggests at first blush, because the Texas Congressman has raised this additional $4 plus million in a 22 percent shorter time period.
Paul launched his 2008 campaign on March 12, 2007 and had 203 fundraising days through the end of the third quarter that year.
That gave Paul an average daily haul of $40,729 through Q3 2007.
In the current cycle, Paul filed his FEC papers on April 26th of this year, which means he has had just 158 days to raise his $12.5 million plus.
That means Paul has raised an average of $79,200 per day since his filing – or an increase of 94.5 percent from this point in 2007.
(Note: Paul's final numbers are reported to be "more than" $8 million for the quarter, so his daily average in the current campaign will actually be slightly higher than what is listed above).
Follow Smart Politics on Twitter.