Rick Perry: My Kingdom for a Typewriter?
Perry is the only major presidential candidate to hand write his Statement of Candidacy to the FEC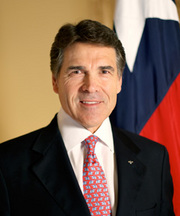 The last few weeks have been a tough slog for Rick Perry as he struggles to convince those in some quarters that he has the aptitude to serve as president of the United States.
After bursting onto the presidential scene as a frontrunner in mid-August, Perry was greeted by the end of the month with a high profile "Is Rick Perry Dumb?" expose by Jonathan Martin at POLITICO.
Then, as Perry began shedding support when some of his policy positions on immigration and health immunization became exposed during the three September debates, he did himself no favors to win over the public (or media elites) by relying extensively on clichés as he stumbled through several answers.
And now, a Smart Politics review of paperwork filed with the Federal Election Commission finds that Rick Perry is the only major presidential candidate who chose to fill out his Statement of Candidacy by hand, instead of taking the time to cleanly type it.
As a result, Perry's first act as a presidential candidate was replete with the shortcomings that result from less than perfect penmanship (by either himself or his staff): drifting letters (the "L" in "Republican"), quasi-legible abbreviations ("Bldg"), and inconsistencies (some "I"s that begin words are fully capitalized ("Inc.") while others are not ("Insurance")).
Such slapdash paperwork does not befall the candidacies of Mitt Romney, Herman Cain, Newt Gingrich, Michele Bachmann, Rick Santorum, Jon Huntsman, Ron Paul, or ex-candidate Tim Pawlenty – all of whom turned in tidily composed typewritten forms to the Commission.
Even cash-strapped candidates who are running their campaigns on shoestring budgets like Gary Johnson and Buddy Roemer (and former candidate Thaddeus McCotter) all managed to break out the typewriter or boot up the computer when filling in this short FEC form.
Then again, Perry actually has a lot of company with his old school chicken-scratch ways.
Of the 238 individuals who have filed a Statement of Candidacy to the FEC through October 5th, 154 of them hand wrote their forms, or 64.7 percent.
Just 84 opted to type their paperwork, or 35.3 percent.
That said, many of those who chose to hand write their forms often drifted off point into the margins and on supplementary pages:
"…My odds of getting elected are as high as 98%." – Vern Leroy Hahn (Hot Springs, Arkansas)
"God will be done on earth as in heaven." – Joan Frances Mary Malone (Washington, D.C.)
So, the question remains: was Perry's decision to hand write his form an intentional man-of-the-people gesture, or is it a symbol of a hastily put together campaign that finds its candidate struggling to be disciplined and communicate effectively in the debates?
One note: Perry did, however, fill out his real birth name on the FEC document: "James R. ("Rick") Perry."
And now, cue the late night talk show jokes of what color crayon a President Perry would use to write an executive order…
Follow Smart Politics on Twitter.