Ron Paul Leads GOP Field in Iowa Fundraising
The Texas Congressman has a 15 percent advantage in contributions from Iowans over Mitt Romney in second place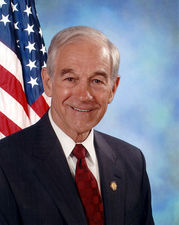 One candidate consistently polls in double-digits in the Hawkeye State, has received more itemized individual contributions from Iowans than any other candidate in the field, and has more endorsements from the state's GOP central committee than any other candidate in the race according to according to GOP Governor Terry Branstad.
That candidate is not Mitt Romney, Rick Perry, or Iowa-born Michele Bachmann.
It's Ron Paul.
Paul, who narrowly lost the Iowa Straw Poll two months ago, seems to have nothing but momentum on his side in a state that yesterday set its first (caucuses) in the nation date for January 3rd of next year.
And now a Smart Politics review of cycle-to-date FEC fundraising reports finds that Paul has received 15 percent more money in itemized individual contributions from Iowa residents than his next closest competitor, Mitt Romney.
In fact, Paul has netted more large-donor money from Iowans than Rick Perry, Herman Cain, Rick Santorum, Newt Gingrich, Jon Huntsman, and Gary Johnson combined.
Paul has received $77,445 in itemized contributions from Iowa residents through the end of September 2011, compared to $67,070 for Romney and just $31,038 for Michele Bachmann.
The sum total of such receipts in the campaign coffers of Santorum ($23,445), Cain ($21,221), Perry ($8,950), Gingrich ($8,410), Johnson ($550), and Huntsman ($0) is just $62,576.
Iowans overall have contributed over a quarter million dollars in large donor money to the GOP field, which ranks 36th among the states in per capita donations to Republicans, at $83.92 per 1,000 residents.
The state has given only $198,645 in large donor money to Barack Obama thus far in his reelection bid, or $65.21 per 1,000 residents.
It should also be noted that Congressman Paul has received significantly more unitemized (small donor) contributions than any other candidate in the field, at $6.07 million, with Michele Bachmann the next closest 2012 Republican White House hopeful at $3.89 million, or more than $2.1 million behind Paul.
In other words, it is likely that if all funds contributed by Iowans were available for a state-by-state analysis, Paul's financial fundraising advantage in Iowa would be even larger.
Paul continues to poll in double-digits in the Hawkeye State: the latest NBC/Marist poll shows Representative Paul at 12 percent and a new Insider Advantage poll puts the Texas Congressman at 10 percent (as does polling by the Democratic firm Public Policy Polling).
A forthcoming Smart Politics report will reveal that Iowa is just one of several states in which Paul is leading the GOP field.
Follow Smart Politics on Twitter.