Kentucky GOP Poised for 2nd Worst Gubernatorial Showing Since 1870
Only once in the last 140 years have Kentucky Republicans failed to win at least one-third of the gubernatorial vote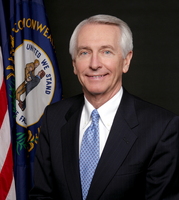 With less than two weeks remaining until Election Day, the Republican Party in Kentucky will need to scramble to avoid one of its most embarrassing performances in a top of the ticket statewide race since shortly after the Civil War.
All polling conducted for Kentucky's gubernatorial election since late July has shown GOP challenger and State Senate President David Williams failing to eclipse the 30 percent mark with one term incumbent Democratic Governor Steve Beshear enjoying a large double-digit advantage and independent Gatewood Galbraith flirting with 10 percent.
Unless Williams gains another 5 to 10 points in the closing days of the campaign, Kentucky Republicans will likely find their party sinking to depths it has rarely seen.
How rare?
A Smart Politics review of Kentucky elections finds the state's Republican Party is on pace for its second worst showing in a gubernatorial election since 1870 and its fourth worst performance of the 111 presidential, gubernatorial, or U.S. Senate popular vote contests in the Bluegrass State during this 140-year span.
Polling by SurveyUSA, Braun Research, and the Democratic firm Public Policy Polling all find Williams hovering between 25 and 28 percent of the vote in a three-way matchup with Governor Beshear and Galbraith.
The lowest tally notched by a Republican gubernatorial nominee in Kentucky since 1870 was turned in by Peppy Martin in 1999 when she recorded just 22.2 percent of the vote in her failed bid to defeat Democratic incumbent Paul Patton that November.
Galbraith ran in that race as well and won 15.3 percent of the vote under the Reform Party banner.
During this 140-year span dating back to 1870, no other GOP gubernatorial nominee has received less than one-third of the vote, with John Harper's 34.9 percent in 1987 against Democratic victor Wallace Wilkinson the next lowest level recorded by a Republican candidate.
Overall, Republicans have averaged 44.0 percent of the vote across the 36 general and special gubernatorial elections that have been conducted in Kentucky since 1871, winning seven times.
Democratic nominees have averaged 54.0 percent of the vote during this span.
But even though the Democrats have generally ruled the roost in Kentucky state politics over the last several generations, it has been a rarity for Republican candidates in races for elite offices to fail to reach the 30 percent mark.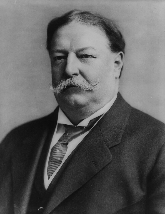 The only time a Republican presidential candidate has failed to win 30 percent of the vote in Kentucky since 1870 was William Howard Taft in 1912, whose 25.5 percent was a distant second to Democrat Woodrow Wilson in a race in which Progressive Teddy Roosevelt notched 22.5 percent.
No other Republican presidential nominee has failed to win one-third of the vote in the Bluegrass State since 1870 with Barry Goldwater's 35.6 percent in 1964 the next lowest total.
In U.S. Senate races, Kentucky Republicans have also dipped below the 30 percent mark just once in the 40 general and special election popular vote contests conducted since 1914.
In that race, Jackson Andrews mustered only 25.6 percent of the vote against Democratic incumbent Wendell Ford in 1986.
No other GOPer has received less than one-third of the vote in a Kentucky U.S. Senate contest, with the next lowest mark recorded by Ford's previous challenger, Mary Foust, at 34.9 percent in 1980.
And what will a Beshear landslide mean for the top of the ticket in the 2012 election?
Unfortunately for Barack Obama, not much.
The fact that Governor Beshear is poised to retain his seat is not a sign that the president will be competitive in the state next November.
Since 1968, Kentucky has cast its Electoral College votes for the Republican presidential nominee in six of the nine cycles in which a Democratic governor was in office: 1972, 1980, 1984, 1988, 2000, and 2008.
In fact, only four other states have voted for a Republican presidential nominee with a Democrat serving as governor on more occasions than Kentucky during this 40-year span: Kansas, North Carolina, Oklahoma, and Wyoming (seven times each).
Note: David Williams' vote tally on Election Day should see a boost of a few points from the pool of approximately 10 percent of undecided voters as measured by the various pollsters.
Follow Smart Politics on Twitter.