The 'Other' NRA: Media Coverage of National Restaurant Association Skyrockets
Cain's old trade organization has received more broadcast media coverage during the last two days than from 2007 through 2010 combined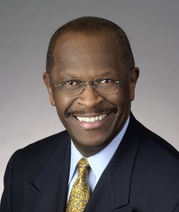 The growing controversy involving the settlement of sexual harassment claims against Herman Cain during his tenure as CEO at the National Restaurant Association has raised the media profile of the trade association to heights heretofore unseen over the last decade and beyond.
The association, founded in 1919, claims to represent more than 380,000 businesses ranging from "restaurants to suppliers to educators and non-profits."
Cain served as its CEO from 1996 to 1999.
But with all apologies to the National Restaurant Association, as well as the National Rehabilitation Association, National Renderers Association, National Renters Association, and National Retailers Association, when most Americans hear the acronym "NRA" they think of the National Rifle Association.
And the level of relative media coverage of these various NRAs over the years explains why.
A Smart Politics review of broadcast media transcripts since 2001 finds that while the National Rifle Association has dominated "NRA" media coverage by an 18:1 margin over the National Restaurant Association over the previous decade, that disparity has collapsed to less than 2:1 in 2011.
(Note: Transcripts from ABC, CBS, CNN, FOX, MSNBC, and NPR were examined from Lexis/Nexis yearly searches).
From 2001 through 2010 there were 2,359 broadcast reports for the outlets under analysis that mentioned the National Rifle Association, with a peak during the presidential election year of 2008 (307 reports).
Coverage of the National Restaurant Association meanwhile, only tabulated 126 reports during this decade-long span, giving the National Rifle Association an 18.7 to 1 advantage in media coverage.
However, thanks in large part to Herman Cain's insurgent campaign – and the resurfacing of the harassment claims(s) from the late 1990s – the National Restaurant Association has seen a surge in its media profile – closing the "NRA gap" with the Rifle Association to just 1.7 to 1 in 2011 with 156 reports on the National Rifle Association and 90 (and rising) on the National Restaurant Association.
The 90-story broadcast media report tally in 2011 is more than the Restaurant Association received from 2004 through 2010 combined.
The majority of attention on Cain's former association in 2011 has, of course, occurred during the last 48 hours.
During the last two days (October 31st and through the early evening of November 1st) there have been 54 broadcast reports (and counting) on the National Restaurant Association and Cain's alleged inappropriate behavior there while serving as its CEO.
By contrast, from 2001 to 2010, the National Restaurant Association was penetrating the media at a rate of only about 1.1 reports per month.
Thus far in 2011, coverage has soared more than eight-fold with an average of 9.0 stories per month.
In fact, there were more broadcast reports mentioning the National Restaurant Association in October of 2011 (46 reports) than all of 2007 (11), 2008 (8), 2009 (9), and 2010 (9) combined.
Prior to 2011, the National Restaurant Association only eclipsed 20 reports a year on two occasions – in 2002 and 2006.
The 2002 uptick was a result of reports on a Supreme Court case involving the IRS and the taxing of tips as well as stories on a group of parents who decided to sue McDonald's for making kids obese.
The 2006 uptick included coverage of New York City considering a ban on trans-fats, the debut of the motion picture Fast Food Nation, and the effect of proposed federal illegal immigration guest worker program laws on the restaurant industry.
And as for the lesser-known NRAs?
During this 10+ year period, the National Retailers Association was mentioned in just four broadcast reports with no coverage at all of the National Rehabilitation Association, National Renters Association, or the National Renderers Association by the outlets under analysis.
Broadcast Media Reports on the National Rifle and Restaurant Associations
Year

National Rifle Association

National Restaurant Association

Ratio

2011*

156

90

1.7 :1

2010

218

9

24.2 :1

2009

264

9

29.3 :1

2008

307

8

38.4 :1

2007

291

11

26.5 :1

2006

110

23

4.8 :1

2005

143

8

17.9 :1

2004

251

17

14.8 :1

2003

258

16

16.1 :1

2002

275

21

13.1 :1

2001

242

4

60.5 :1

2001-2010

2,359

126

18.7 :1
* Through the early evening of November 1, 2011. Data compiled by Smart Politics through a Lexis/Nexis search of transcripts from ABC, CBS, CNN, FOX, MSNBC, and NPR.
Follow Smart Politics on Twitter.