Did Michele Bachmann Coin the Phrase "Frugal Socialists?"
The phrase has appeared sporadically in the media in various political contexts over the last few decades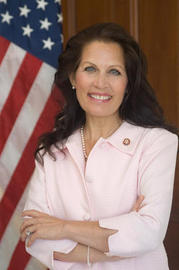 Minnesota U.S. Representative and GOP presidential candidate Michele Bachmann made some much-needed headlines in Washington, D.C. Monday when, during a speech before the Family Research Council, she had this to say about her fellow 2012 White House hopefuls:
"Unfortunately for too many Republicans, they also aspire to be frugal socialists…We can't preserve liberty if the choice is between a frugal socialist and an out-of-control socialist."
The thinly-veiled jab at frontrunners like Mitt Romney and Herman Cain gave Bachmann a media bump after her dismal polling numbers had rendered her virtually invisible in recent weeks, even before the Cain sexual harassment scandal broke.
But while Bachmann has received significant mileage today with the "frugal socialist" concept, the question remains: did she really coin this phrase?
Not quite.
Smart Politics has unearthed a handful of examples in the U.S. and international media in which "frugal socialist" or "frugal socialism" has been used, including one as recently as this August.
In an August 25, 2011 article in London's Daily Mail, the paper used the phrase in an attack piece against former International Monetary Fund Managing Director Dominique Strauss-Kahn:
"Who, other than the two people involved, can say what really happened in that hotel suite, for which the ever-frugal socialist DSK reportedly paid a mere $3,000 a night?" – Daily Mail (August 25, 2011)
The Associated Press also used the term in an article on immigration to Israel a few years ago:
"The end of mass immigration comes as Israelis have lost some of their self-confidence, bogged down in their 41-year occupation of the Palestinian territories, perceiving their country to be under weak, corrupt leadership, nostalgic for the frugal socialist era." – Aaron Heller, Associated Press (September 6, 2008)
And other examples from around the globe:
"Anyway, sitting or otherwise, taxpayers can rest assured that all the overseas business practically every minister so diligently attended to during the last recess will be capably followed up next week when a group of frugal socialists doing their best for you, the workers, will depart New Zealand." – National Business Review (New Zealand) (May 19, 2006)
We must adjust to the changes in the world by mobilizing our society, hoping that the Soviet Union can sustain and reconsolidate itself while we put in place our own alternatives. Because we are not a rich country, Cuba will always have a frugal socialism, even as we continue to develop. – Carlos Rafael Rodriguez, San Francisco Chronicle (December 19, 1990)
"The Liberal Party, not to be outdone by the frugal socialists, is toying with a truly splendid money saving idea – something called "actuarial rating" for medical insurance. I heard Wilson Tuckey, the opposition spokesman on health, advocating this system last year." – Herald (UK) (March 7, 1988)
So will decrying "frugal socialism" become Bachmann's new catchphrase as she enters into the next crucial eight weeks before the Iowa caucuses?
Perhaps, but, the half-life of catchphrases in politics can be short-lived.
Just ask Democratic Missouri U.S. Representative Emmanuel Cleaver, who borrowed the phrase "Satan sandwich" earlier this summer in reference to a House deficit-reduction compromise plan.
The plan passed and the phrase disappeared.
Now, while Smart Politics is not suggesting Representative Bachmann or her campaign were aware of previous usages of the phrase, she may want to reconsider any thoughts she may have of ordering in bulk "End Frugal Socialism" t-shirts for her campaign website.
Because Herman Cain is likely to come up with a phrase that is just as memorable over the next 24 hours.
Follow Smart Politics on Twitter.