Democrats Tally Worst Showing in Mississippi Gubernatorial Race Since Reconstruction
For the second consecutive election cycle, the Democratic vote in Mississippi's gubernatorial race declines to a new post-Reconstruction low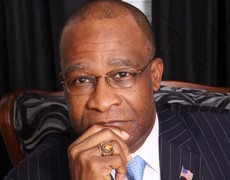 While no one expected Mississippi's gubernatorial election to be competitive, Hattiesburg Mayor and Democratic Party nominee Johnny DuPree was hoping not to go down in the history books this way.
The gradual erosion of the Democratic vote in the Deep South in recent decades continued Tuesday when DuPree notched only 39.0 percent of the vote in defeat to Republican nominee and Lieutenant Governor Phil Bryant (with 97 percent of precincts reporting).
That tally is three points worse than four years ago, the previous post-Reconstruction low water mark for the Democratic Party, when nominee John Eaves won 42.1 percent and Republican Haley Barbour cruised to a second term.
The 2011 election continues a 20-year stretch in which the Democratic gubernatorial nominee in Mississippi has failed to win 50 percent of the vote.
Democrats have won just one of the last six such elections, with Ronnie Musgrove escaping with a plurality 49.6 percent victory in 1999 against Mike Parker.
These last six gubernatorial contests mark the only cycles in which Democrats have failed to win a majority of the vote during the 34 gubernatorial elections conducted in Mississippi since the end of the Reconstruction Era in 1877.
The steady drop in support for Democratic gubernatorial nominees in the Magnolia State can be seen decade-by-decade in the table below. The average percentage of the vote for the Democratic candidate has declined from 100 percent in the 1950s, to 66.1 percent in the 1960s, 63.4 percent in the 1970s, 54.3 percent in the 1980s, 47.2 percent in the 1990s, and just 42.3 percent after 2000.
Percentage of the Vote by Party and Decade in Mississippi Gubernatorial Elections
Decade

Democrat

Republican

3rd / Independent

1950s

100.0

0.0

0.0

1960s

66.1

33.9

0.0

1970s

63.4

28.0

8.6

1980s

54.3

42.8

3.0

1990s

47.2

51.6

1.2

2000s-present

42.3

57.2

0.5
Table compiled by Smart Politics.
Follow Smart Politics on Twitter.