Untouchable: Is the GOP Field Afraid to Criticize Newt Gingrich in Debates?
The former House Speaker is the only candidate yet to be attacked at the seven debates conducted since Rick Perry joined the GOP field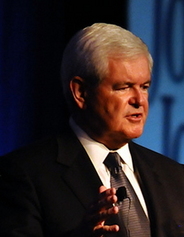 With increased media scrutiny on new GOP presidential co-frontrunner Newt Gingrich's past consulting work for Freddie Mac, the question now becomes whether or not his fellow 2012 White House hopefuls will seize this moment to attack the former House Speaker's credibility on key domestic policy issues.
Michele Bachmann made the first overture Wednesday, implying Gingrich had been "shilling" for the mortgage giants who she says have been the "epicenter of the financial meltdown in this country."
Now that Gingrich is polling in the top tier, will his seven opponents dare to take him to the woodshed on the national stage of a televised debate?
If they do, it would mark a radical reverse course for a Republican field which, to this point, has treated Gingrich like royalty.
A Smart Politics content analysis of the last seven nationally televised debates since Rick Perry entered the race finds that Newt Gingrich is the only candidate yet to be on the receiving end of the more than 150 verbal attacks that have been levied by the Republican field.
Smart Politics first pointed out the lack of criticism Gingrich was receiving from the other candidates in a report published a month ago after the first four debates with Perry.
Now – three debates later – the numbers are even more stark.
After more than 11 hours of debate time and 158 barbs traded back and forth across the stage, not one (politically) poisoned dart has been thrown in Gingrich's direction.
Mitt Romney has now overtaken the fading Rick Perry as the most common target of criticism during the debates, receiving 59 verbal jabs, or 37.3 percent.
Romney is followed by Perry with 55 (34.8 percent), Herman Cain with 22 (13.9 percent), Ron Paul with 10 (6.3 percent), Jon Huntsman with five (3.2 percent), Rick Santorum with four (2.5 percent), and Michele Bachmann with three (1.9 percent).
And then there is Gingrich with zero.
Number of Criticisms Against 2012 Republican Presidential Candidates in the Last Seven Debates
Candidate

# Times attacked

Percent

Mitt Romney

59

37.3

Rick Perry

55

34.8

Herman Cain

22

13.9

Ron Paul

10

6.3

Jon Huntsman*

5

3.2

Rick Santorum

4

2.5

Michele Bachmann

3

1.9

Newt Gingrich

0

0.0

Total

158

100.0
* Participated in six of the seven debates. Data compiled by Smart Politics.
Unlike Cain, who endured a surge in critiques after his rise in the polls throughout October, Gingrich has emerged unscathed during his recent political renaissance.
For example, Cain had not been attacked during the first three debates before receiving nine blows in New Hampshire and 13 in Nevada.
Then, in the two debates conducted after Cain's sexual harassment scandal broke, the other seven candidates backed off the former Godfather's CEO once again and have not levied a single critique since on stage.
As for Gingrich, it has been quite evident, even for casual observers, that his chief opponents during the debate this primary season thus far have been the media and the moderators themselves, with Gingrich famously admonishing moderators for the various questions posed and issues discussed at the debates.
The closest any candidate has come to confronting Gingrich in these seven debates took place in Nevada in an exchange with Mitt Romney.
However, Romney never attacked Gingrich or his policy per se, but rather argued over whether or not Gingrich had supported the principles behind Romney's health care plan in Massachusetts after the Speaker attacked Romney for implementing such a plan:
GINGRICH: And candidly, Mitt, your plan ultimately, philosophically, it's not Obamacare, and that's not a fair charge. But your plan essentially is one more big government, bureaucratic, high-cost system, which candidly could not have been done by any other state because no other state had a Medicare program as lavish as yours, and no other state got as much money from the federal government under the Bush administration for this experiment. So there's a lot as big government behind Romneycare. Not as much as Obamacare, but a heck of a lot more than your campaign is admitting.

COOPER: Governor Romney, 30 seconds.

ROMNEY: Actually, Newt, we got the idea of an individual mandate from you.

GINGRICH: That's not true. You got it from the Heritage Foundation.

ROMNEY: Yes, we got it from you, and you got it from the Heritage Foundation and from you.

GINGRICH: Wait a second. What you just said is not true. You did not get that from me. You got it from the Heritage Foundation.

ROMNEY: And you never supported them?

GINGRICH: I agree with them, but I'm just saying, what you said to this audience just now plain wasn't true.

ROMNEY: OK. Let me ask, have you supported in the past an individual mandate?

GINGRICH: I absolutely did with the Heritage Foundation against Hillarycare.

ROMNEY: You did support an individual mandate? Oh, OK. That's what I'm saying. We got the idea from you and the Heritage Foundation.

GINGRICH: OK. A little broader.

ROMNEY: OK.
And that's the worst Gingrich has endured on stage to date.
If Republicans thought there was no reason to prod Gingrich in debates while he was down in the polls – a candidate who many analysts ennoble as the best debater in the field and perhaps the smartest candidate on stage – will they have the courage to do so now?
In fact, not only has the former Speaker avoided being the target of any of the 150+ attacks launched during the debates over the past three months, but candidates have actually gone out of their way and taken moments out of their allotted response time to laud him and celebrate his ideas.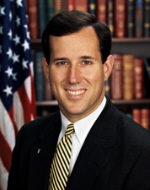 Rick Santorum has been the biggest 'Newtist' to date, frequently echoing Gingrich's comments, and rating him as his top VP pick at the Orlando, Florida debate:
"So I would say that Newt Gingrich would be the guy that I would — I would pick as someone who — who would follow through with what I'm saying." – Rick Santorum (Florida II)
"I want to make the point about manufacturing jobs again, because if you're — if you're talking about creating jobs that trickle down, I agree with Newt." – Rick Santorum (Michigan)
"Well, my solution is very similar to Newt Gingrich's." – Rick Santorum (California)
"You talk about the importance of — as — as Newt has talked about for many years, having English as the — as the official language of this country." – Rick Santorum (Florida I)
Nearly every other candidate has gotten into the act of propping up the former Speaker and his policy ideas:
"If he does not, I would probably go with Speaker Gingrich, who I have the greatest admiration for, in all seriousness, because of his history and because of his depth of knowledge." – Herman Cain (Florida II)
"The things the Speaker just indicated are excellent ideas as well." – Mitt Romney (Michigan)
"Newt is right about our capacity to manufacture and compete heads-on versus the Chinese." – Mitt Romney (Michigan)
"And just like Newt Gingrich said, the way that Obamacare runs, there's a board called IPAB." – Michele Bachmann (New Hampshire II)
"Listen, I think we're having a — an interesting conversation here. But the deeper one is — that the Speaker makes reference to is the whole issue of — of foreign aid." – Rick Perry (South Carolina)
And how has Gingrich repaid these candidates for their generosity in never throwing a punch in his direction?
Overall, quite well — by largely not criticizing them.
Gingrich has mostly practiced what he preaches, summed up at the end of the Nevada bloodbath, in which he opined:
"Let me just point out for a second that maximizing bickering is probably not the road to the White House."
Gingrich has, in fact, launched the second fewest attacks on his 2012 competitors with just eight over these seven debates, and five of these directed at Romney.
Rick Santorum has launched the most criticisms with 43 while Ron Paul has tallied the least with seven.
Number of Verbal Attacks Made and Received by Each Candidate During the Last Seven Republican Debates (September-November, 2011)
Candidate

Bachmann

Cain

Gingrich

Huntsman

Paul

Perry

Romney

Santorum

Total

Bachmann

—

4

1

7

1

13

Cain

1

—

1

2

1

4

9

Gingrich

1

—

1

1

5

8

Huntsman

1

1

—

7

12

21

Paul

4

—

3

7

Perry

1

2

—

21

2

26

Romney

3

3

1

22

—

2

31

Santorum

7

2

4

14

16

—

43

Total

3

22

0

5

10

55

59

4

158
Note: Attacks made by each candidate are designated in rows; attacks received by each candidate are designated in columns. Data compiled by Smart Politics.
Follow Smart Politics on Twitter.