Can Massachusetts GOP End Its 88 US House Seat Pick-Up Drought in Frank's Open 4th CD?
Bay State Republicans have the second biggest dry spell in the nation and have picked off just 2 of 284 Democratic U.S. House seats since 1944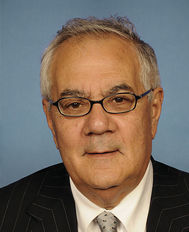 While the Republican Party's odds in winning a U.S. House seat in Massachusetts may have increased somewhat with the retirement of Barney Frank in 2012, the Bay State's GOP undeniably has a long historical hurdle to clear to realize that goal.
True, the state's 4th Congressional District map tilted slightly to the right with its new district lines, and an open seat race usually clears the pathway a little wider for the challenging party.
However, Massachusetts Democrats have defended their House seats on a scale bested by only one other state in the nation, and have locked down a near vise-like grip over the congressional seats they have won since World War II.
A Smart Politics review of Massachusetts electoral history finds that not only do Bay State Democrats own a nation-best 82 consecutive victories in U.S. House contests (winning each race since 1996), but also the second best streak in the country in preventing Republican pick-ups at 88 (defending all of its districts since 1994).
The Democratic consecutive victory tally in U.S. House contests began with their sweep of the state's 10 congressional districts in 1996 – picking up the 3rd and 6th CD that they had lost in 1992 and holding their other eight seats.
Democrats then swept all districts across the next seven general election cycles through 2010, plus won special elections in the 9th CD (2001) and 5th CD (2007) to run their current U.S House winning streak to 82 straight seats.
After defeating Democratic incumbents in the 3rd and 6th CDs in 1992, Republicans in Massachusetts have now failed to pick up a Democratic seat in 88 consecutive races dating back to 1994 – the second biggest dry spell in the nation behind only California Republicans.
After Janice Hahn's special election victory over Craig Huey in California's 36th Congressional District in mid-July, Democrats have now successfully held 200 consecutive seats in general and special elections conducted in the Golden State since a special election victory in CA-42 in 1999.
Far behind California (200 seats) and Massachusetts (88) is Oregon in third place where the GOP has failed to pick up a seat in 32 consecutive races in the Beaver State dating back to a special election in the 3rd CD in 1996.
Rhode Island is next on the list with a Republican pick-up drought in 18 straight races since 1992, followed by Maine at 15 (1996), Connecticut at 13 (2004), Iowa at 11 (1998), Oklahoma at five (2002), Utah at five (2002), Kentucky at five (2006), and Vermont at two (2008).
Largest Consecutive Number of Democratic U.S. House Seat Holds by State
State

Year of last GOP pick-up

Year beginning perfect Democratic holds

Democratic hold streak

California

1998

1999

200

Massachusetts

1992

1994

88

Oregon

1994

1996

32

Rhode Island

1988

1992

18

Maine

1994

1996

15

Connecticut

2002

2004

13

Iowa

1994

1998

11

Oklahoma

1996

2002

5

Utah

1996

2002

5

Kentucky

2004

2006

5

Vermont

1960

2008

2
Includes general and special elections. Data compiled by Smart Politics.
In Massachusetts, Democrats have been on an incredible run in holding their own districts dating back to the close of World War II.
Since 1944, Democrats have held 282 of 284 U.S. House seats in general and special elections, or 99.3 percent.
In other words, Republicans have picked off Democratic House seats in Massachusetts at a rate of just 0.7 percent.
By contrast, Democrats have picked off Republican seats in the Bay State at a rate of more than 12 times that amount at 9.0 percent, taking 11 of 122 GOP-controlled U.S. House seats during this 66-year span.
Massachusetts Republicans have seen their 10-seat delegation from 1944 erode to its current level of zero with Democrats picking up seats in 1946, 1948, 1954, 1958, 1972, 1974, 1982, and 1996.
Aside from the loss of the two seats in 1992, the only other instance of a Democratic-held district changing partisan control occurred in 1962 – although it comes with an asterisk.
In that cycle, Massachusetts lost two seats due to reapportionment (from 14 to 12) – one Democratic and one Republican.
Additionally, the 12th CD Democratic incumbent John McCormack ran and won in the new 9th CD while the 9th CD Republican incumbent Keith Hastings ran and won in the new 12th CD.
In short, it was an equal swap for the two parties as districts were renumbered, so the only true black marks on the Democratic resume in defending its home turf over the last 66 years came in 1992 when incumbent Joseph Early was defeated in the 3rd CD by GOPer Peter Blute and incumbent Nicholas Mavroules lost in the 6th CD to Republican Peter Torkildsen.
Follow Smart Politics on Twitter.