Ron Paul Reaches All-Time Polling Highs in Iowa and New Hampshire
Paul's support is up 100 percent in Iowa and 50 percent in the Granite State from his '08 campaign peaks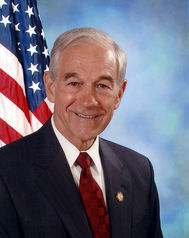 Despite receiving the least amount of face time in the most recent Iowa debate, and given third-tier candidate coverage by the media when his Iowa poll numbers began to surge a few weeks ago, Texas Congressman Ron Paul has now reached an all-time high in polling in the Hawkeye State.
According to a new survey released Tuesday by Public Policy Polling (a generally well-regarded though partisan (Democratic) survey organization), Representative Paul has the support of 21 percent of likely Republican caucus voters in Iowa.
That places him just one point behind frontrunner Newt Gingrich at 22 percent and ahead of Mitt Romney (16 percent), Michele Bachmann (11 percent), Rick Perry (9 percent), Rick Santorum (8 percent), and Jon Huntsman (5 percent).
Paul has now eclipsed the 20 percent mark for the first time out of more than 115 public opinion polls conducted in Iowa across the last two presidential election cycles.
At this stage in the 2008 campaign in Iowa, Paul was polling at approximately 5 percent in averages of polls conducted by Rasmussen (5 percent), The Hotline (5 percent), and the Quad City Times (7 percent) approaching mid-December 2007.
In 2008, Paul only broke into double digits two times in the Hawkeye State out of 80 public opinion surveys conducted before the caucuses – reaching 10 percent in polls conducted by American Research Group (December 20-23, 2007) and Reuters/CSPAN/Zogby (December 30, 2007-January 2, 2008).
In the 2012 cycle, the Texas Congressman has already reached double digits in 25 of the last 27 Iowa surveys since early August.
Paul also surging in New Hampshire
Tuesday also brought record polling numbers for Paul in the state of New Hampshire – home to the first primary in the nation on January 10th.
A new Insider Advantage survey finds Paul registering the support of 21 percent of likely primary voters – good for third behind Romney at 29 percent and Gingrich at 24 percent.
Paul's next best showing in a New Hampshire survey is 18 percent – in a poll released earlier Tuesday by Rasmussen.
In Paul's 2008 presidential campaign, his best showing in New Hampshire polling was 14 percent in a Rasmussen survey conducted on January 4, 2008 – just four days before the primary election.
Paul only reached double digits on two other occasions out of nearly 100 surveys conducted in New Hampshire that cycle.
This time around, Congressman Paul has reached double digits in 21 surveys in New Hampshire, including each of the last 15 dating back to the first week of October.
At this point in the '08 cycle, Paul was averaging approximately 7 percent in the Granite State in polls released by Suffolk University (5 percent), Rasmussen (8 percent), Concord Monitor (7 percent), and Fox News (8 percent) nearing mid-December 2007.
The upshot of these new Iowa and New Hampshire surveys is a potential bursting of the conventional media narrative that reduces Paul's support to a small but "loyal" following.
With one in five GOP Iowa caucus voters and New Hampshire primary voters expressing support for Paul in a seven-candidate field, it is evident Paul has significantly expanded his traditional circle of supporters.
And, because of the 'loyalty factor,' Paul enjoys a healthy advantage over Gingrich and the GOP presidential field among supporters who are "definitely" going to vote for their candidate, according to the PPP survey.
One suspects that loyalty will be crucial on a cold winter Iowa evening come January.
Follow Smart Politics on Twitter.