Ex-Presidents Take Center Stage at Iowa Debate
The seven candidates name-drop 12 ex-presidents 33 times on Thursday; Gingrich makes 22 references to raise his tally this debate season to 63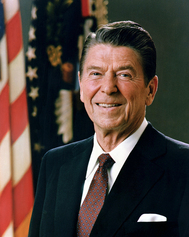 With just a few weeks remaining before the Iowa Caucuses, the seven 2012 GOP White House hopefuls pulled out all the stops in Thursday's Iowa debate – including providing a history lesson in American presidential politics replete with dozens of references to ex-presidents.
The previous high water mark in debates this year came at the Reagan Library in California in early September when 26 such references were made, mostly, of course, about Reagan (24 times).
On only two other occasions this cycle have the number of mentions of ex-presidents reached double digits – 10 times each during the Nevada and second Florida debates.
But a Smart Politics analysis of the FOX News debate held last night in Sioux City finds candidates kept playing the presidential hits one after another – to the tune of a record 33 mentions resurrecting 12 ex-presidents.
Historian Newt Gingrich led the charge by name-dropping eight former U.S. presidents a total of 22 times: Ronald Reagan (6), Bill Clinton (4), Thomas Jefferson (3), Jimmy Carter (3), Abraham Lincoln (2), Franklin Roosevelt (2), Andrew Jackson (1), and Herbert Hoover (1).
It was the first time FDR, Jackson, and Hoover had been mentioned across the 13 debates conducted since the initial gathering in Greenville, South Carolina on May 5th.
In addition to Gingrich, each of the other six candidates also got into the presidential name game Thursday:
· Michele Bachmann (3): Reagan (2), Carter (1)
· Rick Santorum (2): George W. Bush (2)
· Rick Perry (2): Reagan (1), Monroe (1)
· Mitt Romney (2): George H.W. Bush (1), Reagan (1)
· Jon Huntsman (1): Reagan (1)
· Ron Paul (1): Kennedy (1)
Gingrich has woven references to ex-presidents into the debates like no other – tallying a whopping 63 references to date – nearly three times more than his closest name-dropper, Rick Santorum at 22.
In third place is Bachmann with 13, then Romney with 11, Paul with eight, and Huntsman and Perry with seven.
Ex-candidates Herman Cain (five) and Tim Pawlenty (three) tallied an additional eight such references collectively.
All told, these nine candidates have mentioned ex-presidents a total of 139 times during the 13 debates, with Gingrich accounting for 45 percent of them.
Number of References to Ex-Presidents in the GOP Presidential Debates
Candidate

References

Percent

Newt Gingrich

63

45.3

Rick Santorum

22

9.4

Michele Bachmann

13

9.4

Mitt Romney

11

7.9

Ron Paul

8

5.8

Jon Huntsman

7

5.0

Rick Perry

7

5.0

Herman Cain

5

3.6

Tim Pawlenty

3

2.2

Total

139

100.0
Data compiled by Smart Politics across the 13 GOP presidential debates held in 2011.
These 139 references have been divvied up among 16 different ex-presidents.
Not surprisingly, Ronald Reagan leads the way with more than half of these references. The Gipper has been name-dropped 74 times, or 53.2 percent of all mentions of ex-presidents in the debates.
Newt Gingrich is responsible for 34 of these Reagan name-drops, and has done so in 11 of the 12 debates in which he has participated (all but the second New Hampshire debate held at Dartmouth College).
After Gingrich comes Santorum and Bachmann with eight Reagan references, Huntsman with seven, Paul with six, Perry with five, Cain with four, and Romney and Pawleny with one each.
Romney was the last GOP candidate to hold out in making a Reagan reference in a debate until Thursday in Sioux City. When pressed about his flip-flopping on abortion, the former Massachusetts governor remarked:
"I've learned over time, like Ronald Reagan and George Herbert Walker Bush and others, my experience in life over, what, 19 — 17, 18, 19 years has told me that sometimes I was wrong."
After Reagan, the most referenced ex-presidents are George W. Bush with 22, Bill Clinton with nine, Abraham Lincoln and Jimmy Carter with seven, and Thomas Jefferson with five.
Ex-Presidents Name-Dropped at the GOP Presidential Debates
President

References

Percent

Ronald Reagan

74

53.2

George W. Bush

22

15.8

Bill Clinton

9

6.5

Abraham Lincoln

7

5.0

Jimmy Carter

7

5.0

Thomas Jefferson

5

3.6

Lyndon Johnson

2

1.4

James Monroe

2

1.4

Franklin Roosevelt

2

1.4

John Kennedy

2

1.4

George H.W. Bush

2

1.4

George Washington

1

0.7

James Madison

1

0.7

Andrew Jackson

1

0.7

Herbert Hoover

1

0.7

Dwight Eisenhower

1

0.7

Total

139

100.0
Data compiled by Smart Politics across the 13 GOP presidential debates held in 2011.
Follow Smart Politics on Twitter.