Bachmann Suffers Greatest Fall for Iowa Straw Poll Winner
The Minnesota congresswoman sets a trio of unwelcome records after her poor showing in Iowa Tuesday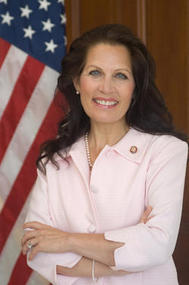 With her sixth place finish in Tuesday evening's Iowa caucuses, Republican U.S. Representative Michele Bachmann has put her name in the record books of presidential politics in the Hawkeye State.
Bachmann's showing in the caucuses is the worst of any of the seven Ames Straw Poll winners since its inception in 1979.
The previous worst performance in the caucuses by a Straw Poll victor was 1995's co-winner Texas U.S. Senator Phil Gramm.
Gramm tied Bob Dole with 24.4 percent of the Straw Poll vote, but sank all the way to fifth place in an eight-candidate field on Caucus Day the next February – behind Dole, Pat Buchanan, Lamar Alexander, and Steve Forbes.
Bachmann sank below Gramm's showing down to sixth place in a seven-candidate field (excluding Buddy Roemer).
Bachmann also set the record for the lowest percentage of the vote in the caucuses ever recorded by an Iowa Straw Poll winner at just 5 percent.
That dips well below the 9.3 percent Phil Gramm notched in 1995.
No other Straw Poll winner has received less than 24 percent in the caucuses.
The congresswoman's 23.6 percentage-point drop from her Ames showing (28.6 percent) to the caucuses (5.0 percent) is also the biggest among Straw Poll winners.
Gramm shed 15.1 percent off his Straw Poll tally, with no other Ames winner losing more than nine points.
Follow Smart Politics on Twitter.