Joe Kennedy III May Reboot the Kennedy Dynasty's Congressional Franchise
Five Kennedys in Joe's ancestral line have logged more than 92 years of service in Congress – besting the Longs of Louisiana by 21 years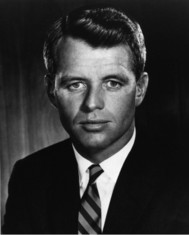 The announcement by Middlesex County prosecutor Joe Kennedy III – son of former U.S. Representative Joseph Kennedy II and grandson of former U.S. Senator Robert F. Kennedy (pictured) – that he will explore a run for the U.S. House from Massachusetts' 4th CD, brings the Kennedy name one step closer to the halls of Congress once again.
While dozens of current members of the House and Senate have relatives who have served in House or Senate, the Kennedy name has a special place among the various political dynasties that have served on the Hill.
If elected to Barney Frank's open seat in November, Joe Kennedy would become the sixth Kennedy in his family to serve in the U.S. House or Senate (excluding relatives with other surnames).
This would tie the Kennedys with the Frelinghuysens and Muhlenbergs, but would still fall short of the Breckinridges, Claibornes, and Longs whose clans each had seven individuals bearing their respective surnames serving in Congress over the last 200+ years.
The Kennedys, however, have recorded the longest cumulative congressional service of these famous political dynasties – at more than 92 years.
A Smart Politics analysis finds that between Ted Kennedy in the U.S. Senate (17,095 days), Patrick Kennedy in the U.S. House (5,845 days), Joseph Patrick Kennedy in the House (4,384 days), John F. Kennedy in the Senate (2,911 days) and House (2,192 days), and Robert Kennedy in the Senate (1,251 days) the Kennedys have tallied 33,678 days cumulatively, or more than 92 years of congressional service.
(Note: This excludes the 6+ years of U.S. House service by John Fitzgerald – the grandfather of John, Teddy, and Bobby Kennedy).
During the 64-year span between January 3, 1947 (when John Kennedy entered the House) and January 3, 2011 (when Patrick Kennedy retired from the House), a Kennedy served in Congress for all but 1 year, 10 months, and 8 days (the gap between John's departure from the U.S. Senate in December 1960 and the seating of Ted in the Senate in November 1962).
Of course, if Joe Kennedy III opts not to run, one famous dynasty will still likely be going strong in D.C.
New Jersey's Frelinghuysen clan – Frederick (1793-1796), Theodore (1829-1835), Frederick Theodore (1866-1869; 1871-1877), Joseph (1917-1923), Peter (1953-1975), and Rodney – have served 23,015 days and counting in Congress (63+ years), with Rodney representing New Jersey's 11th CD since 1995.
But the Frelinghuysens have more than the Kennedys to pass to become the longest serving political dynasty in Congress.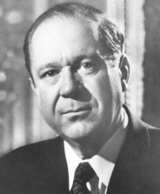 The Longs of Louisiana come in at 26,136 days (71+ years): Huey (1932-1935), Rose (1936-1937), Russell (1948-1987), George (1953-1958), Gillis (1963-1965; 1973-1985), Speedy (1965-1973), and Catherine (1985-1987).
Russell Long (son of Huey) had the longest service at 13,883 days in the U.S. Senate with his mother Rose the shortest stint at just 339 days.
Moving down the list are the seven Breckinridges of Kentucky, Virginia, and Arkansas who served a total of 16,712 days in the U.S. House and U.S. Senate, or more than 45 years.
The service began with John (1801-1805) followed by James (1809-1817), James Douglas (1821-1823), John Cabell (1851-1855; 1861-1861), Clifton (1883-1890; 1890-1894), William (1885-1895), and John Bayne (1973-1979).
John Cabell Breckinridge was elected Vice President on James Buchanan's ticket in 1856 and ran unsuccessfully for the presidency in 1860, winning 72 Electoral College votes and carrying 10 states as a Southern Democrat.
He was expelled from the Senate after less than one year in office in 1861 for supporting the southern rebellion.
(Several other former members of Congress are related to the Breckinridge family including U.S. House member Francis Preston, and U.S. Senators John Brown of Kentucky and James Brown of Louisiana).
The seven Claibornes served 13,878 days in Congress, or slightly more than 38 years: Thomas (1793-1799, 1801-1805), William (1797-1801, 1817-1817), John (1805-1808), Thomas (1817-1819), Nathaniel (1825-1837), John Francis (1835-1837, 1837-1838), and James (1933-1937).
(The Claiborne family tree eventually broke off into Pells and Boggs, spawning three additional members of Congress).
Meanwhile, despite being six strong, the Muhlenbergs of Pennsylvania only served 9,615 days collectively, or a shade more than 26 years: Frederick Augustus Conrad (1789-1797), John (1789-1791, 1793-1795, 1799-1801), Francis (1828-1829), Henry Augustus Philip (1829-1839), Henry Augustus (1853-1854), and Frederick Augustus (1947-1949).
Frederick Augustus Conrad Muhlenberg was the nation's first (and third) Speaker of the House.
Follow Smart Politics on Twitter.