Romney Notches 30 Percent of Speaking Time in Weekend's New Hampshire Debates
The GOP frontrunner doubles up on Paul, Gingrich, and Huntsman and triples the speaking time of Perry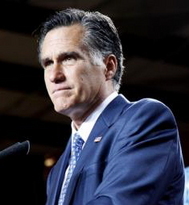 If the GOP field was critical of the amount of attention Mitt Romney was receiving from debate moderators while he alternately trailed the likes of Rick Perry, Herman Cain, and Newt Gingrich in the polls in 2011, it should come as little surprise that the former Massachusetts Governor has become even more of a focal point on the debate stage in light of his Iowa caucus victory and lead in the national polls.
A Smart Politics analysis of the weekend's two Republican presidential debates in the Granite State finds Mitt Romney spoke for 31 percent of the time on Saturday and 28 percent of the time on Sunday for a 30 percent average, while the rest of the field averaged just 14 percent.
At 34 minutes and 37 seconds, Romney scored more than 10 minutes of extra face time than Rick Santorum at 23:38 (20.1 percent), and doubled up on Ron Paul at 16:55 (14.4 percent), Newt Gingrich at 16:01 (13.6 percent), and Jon Huntsman at 15:36 (13.3 percent).
Romney more than tripled the amount of speaking time of Rick Perry, who logged just 10 minutes and 45 seconds between the two debates, or 9.1 percent overall.
Total Speaking Time in the ABC and NBC New Hampshire GOP Presidential Debates
Candidate

Time

Percent

Mitt Romney

34 min. 37 sec.

29.5

Rick Santorum

23 min. 38 sec.

20.1

Ron Paul

16 min. 55 sec.

14.4

Newt Gingrich

16 min. 01 sec.

13.6

Jon Huntsman

15 min. 36 sec.

13.3

Rick Perry

10 min. 45 sec.

9.1
Data compiled by Smart Politics.
Romney has now received the most airtime on stage during eight of the last 10 debates dating back to the second Florida forum held in Orlando in late September (ceding the top spot only to Gingrich in Washington D.C. and Sioux City).
Rick Perry, who notched the second largest amount of speaking time during the 10 debates conducted in 2011 after he joined the field, was nearly invisible on stage all weekend – with ABC moderators permitting the long-serving Texas governor just 5 minutes and 14 seconds of camera time on Saturday evening.
That marked the fourth shortest amount of face time logged by the 89 participants during the 12 debates held since September (and in a six-candidate forum to boot).
The only instances of a candidate receiving less time during this span were Ron Paul in the CBS/National Journal South Carolina debate (at 3:51), Gary Johnson at the FOX News debate in Orlando (4:09), and Paul in Orlando (4:41).
Perry spoke for 5 minutes and 31 seconds on stage Sunday morning – good for 10.8 percent of the candidates' total time and the fifth lowest total of all debate participants since he entered the race.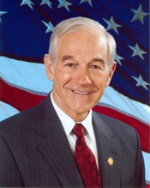 Congressman Paul enjoyed the third most attention during Saturday's ABC debate at 16 minutes 55 seconds or 16.4 percent of all candidate time. (An equal distribution of candidate time in the six-man field would be 16.6 percent per candidate).
Paul also had the third most face time during the California debate at the Reagan Library as well as the third Iowa debate in Sioux City.
However, in NBC's forum Sunday morning, Paul fell back to his usual spot with the second least amount of speaking time at just 6 minutes and one second, or 11.8 percent of the time allotted to all candidates.
During the 10 GOP debates in 2011 since Rick Perry joined the race from September through December, Paul averaged two minutes less speaking time than the candidate average.
On Saturday, Newt Gingrich's mere 7 minutes and 39 seconds of speaking time (11.5 percent) ranked next to last among the six candidates, ahead of only Perry.
That comes after a string of five consecutive debates in which the former House Speaker (and former frontrunner) landed in the Top 3 spots for face time in the GOP field dating back to the Michigan debate in early November.
The field's next debate will be moderated by FOX News on January 16th in Myrtle Beach, South Carolina.
Total Speaking Time at the ABC New Hampshire GOP Presidential Debate
Candidate

Time

Percent

Mitt Romney

20 min. 23 sec.

30.7

Rick Santorum

12 min. 55 sec.

19.4

Ron Paul

10 min. 54 sec.

16.4

Jon Huntsman

9 min. 24 sec.

14.1

Newt Gingrich

7 min. 39 sec.

11.5

Rick Perry

5 min. 14 sec.

7.9
Data compiled by Smart Politics.
Total Speaking Time at the NBC New Hampshire GOP Presidential Debate
Candidate

Time

Percent

Mitt Romney

14 min. 14 sec.

28.0

Rick Santorum

10 min. 43 sec.

21.0

Newt Gingrich

8 min. 22 sec.

16.4

Jon Huntsman

6 min. 12 sec.

12.1

Ron Paul

6 min. 1 sec.

11.8

Rick Perry

5 min. 31 sec.

10.8
Data compiled by Smart Politics.
Follow Smart Politics on Twitter.