Perry's New Hampshire Tally Shy of Morry Taylor, Phil Crane, and George Romney
The Texas governor receives less support in the Granite State than many forgotten presidential candidates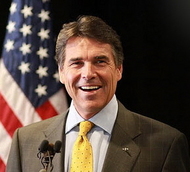 While Rick Perry was never expected to be very competitive in New Hampshire this election cycle – reaching double digits in Granite State public opinion polls just two times since entering the race in August – his lack of support in Tuesday's primary is certainly one of the worst performances by a major Republican candidate in history.
With 95 percent of precincts reporting, Perry sits at 0.7 percent, which is not the lowest ever recorded by a GOP candidate but it is the lowest by a one-time frontrunner.
Perry's dismal New Hampshire tally resembles that of – and actually suffers by comparison to – another southern GOP presidential flameout – Fred Thompson, who received 1.2 percent of the vote there in 2008.
However, the criticism on Thompson was that he was never really committed to his presidential run – and was often called out by the press for running a lazy campaign.
The same cannot be said for Perry who came out of the gate even more impressively than Thompson in public opinion polls as well as in fundraising, only to be derailed by a long string of underwhelming and embarrassing debate performances.
And yet, one of the Top 50 longest-serving governors in U.S. history could not win even 1 percent of the vote in the nation's first primary contest.
Even Morry Taylor was able to eclipse 1 percent in New Hampshire. Remember Morry Taylor?
The presidential campaign of the tire company executive turned out twice the support in New Hampshire in 1996 (1.4 percent) as Perry did on Tuesday.
Other forgotten presidential candidates that doubled-up on Perry's 0.7 percent tally include then Illinois Congressman Phil Crane (1.8 percent) and former Texas Governor John Connally (1.5 percent) from the 1980 GOP campaign.
Alan Keyes trounced Perry's New Hampshire tally both in 1996 (2.7 percent) and 2000 (6.4 percent).
And not only did Mitt Romney crush his once closest rival by nearly 40 points on Tuesday, but the Texas governor even fell shy of George Romney's forgettable performance of 1.7 percent in the Granite State back in 1968.
However, Perry does have bragging rights if he is ever in the company of a few former GOP candidates: California Congressman Duncan Hunter received 0.5 percent in 2008, Texas Senator Phil Gramm won 0.4 percent in 1996, and California Congressman Bob Dornan received 0.3 percent in 1996.
Perry also avoided the shame of losing to two candidates who have already exited the 2012 race – beating Herman Cain and Michele Bachmann by approximately 1,500 and 1,300 votes respectively.
Perry also edged out former Louisiana Governor Buddy Roemer, who has been excluded from the Republican debates. Roemer ended up with 0.4 percent of the vote.
Follow Smart Politics on Twitter.