Romney Plays the Florida Card…in Spades
Romney makes more Sunshine State references in the NBC debate than Gingrich, Paul, and Santorum combined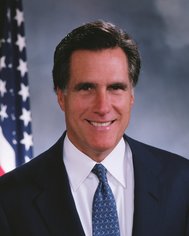 After seeing a double-digit advantage crumble in South Carolina inside of a week, Mitt Romney undoubtedly wants to put the results of Saturday's Palmetto State primary in the rear view mirror.
And so, on stage once again at the latest Republican debate Monday evening, the former Massachusetts governor made it clear on what state his campaign was now focused – like a laser.
A Smart Politics content analysis finds Mitt Romney mentioned Florida 13 times during the NBC / Tampa Bay Times / National Journal GOP presidential debate, while Newt Gingrich, Rick Santorum, and Ron Paul mentioned the state just nine times collectively.
If Romney's Florida-centric rhetoric seems like an overt play for votes, consider this: prior to Monday night's debate, the Sunshine State had been mentioned just three times across the last 17 debates by the entire field – two of which were held in Florida.
The Republican candidates treated the previous Florida debates, held in mid-September of last year, more to position themselves as they jockeyed for position nationally.
However, the Monday gathering in Tampa Bay was all about winning over Florida voters in advance of its January 31st primary – at least for Romney.
Romney managed to squeeze explicit Florida references into a variety of policy areas, such as the Freddie Mac housing crisis (multiple times), unemployment and underemployment, the space program, as well when delivering general attacks against President Obama:
"This president came into office saying he'd turn this economy around and everything he has done has made it harder for the people of Florida." – Mitt Romney
After Romney's 13 Florida mentions came Rick Santorum with six, Ron Paul with two, and Newt Gingrich with one.
In addition, candidates made references to Florida Attorney General Pam Bondi, the 'space coast,' Miami Dade County, Sarasota, and the host city of Tampa.
As for the cadence of the debate, the first half was largely defined by heated exchanges between frontrunners Romney and Gingrich.
Overall, although he was one of four candidates on the stage, Romney received one-third of the speaking time.
Romney clocked in at 21 minutes and 43 seconds, or 33.3 percent of the total candidate face time.
Romney was followed by Newt Gingrich at 19 minutes and 32 seconds (29.9 percent), Rick Santorum at 13:59 (21.4 percent), and Ron Paul at just 10:04 (15.4 percent).
Total Speaking Time During the NBC Florida GOP Presidential Debate
Candidate

Time

Percent

Mitt Romney

21 min. 43 sec.

33.3

Newt Gingrich

19 min. 32 sec.

29.9

Rick Santorum

13 min. 59 sec.

21.4

Ron Paul

10 min. 04 sec.

15.4
Data compiled by Smart Politics.
Follow Smart Politics on Twitter.