Bachmann Celebrates Reelection Bid Announcement with Second 'Appearance' on Jeopardy!
Bachmann clues have netted Jeopardy! contestants $1,200 over the past year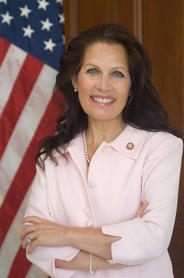 In a case of fortuitous timing, Michele Bachmann's announcement that she would seek a fourth term to her U.S. House seat on Wednesday came the same day her name was invoked in a clue on a (previously taped) episode of Jeopardy!
Bachmann made her debut on the popular game show last June, in which she was the answer to an $800 clue:
"In 2011 this congresswoman from Minnesota's 6th district gave a State of the Union rebuttal on behalf of the Tea Party."
In the first round on Wednesday's program (episode #6298), the congresswoman's name appeared in the "Child Rearing" category for $400:
"Michele Bachmann gave her biological children this schooling; the state wouldn't let her do it with her foster kids."
Defending champion Kirby Burnett – who just happens to be a poker dealer from Prior Lake, Minnesota – correctly answered, "What is home schooling?"
It is perhaps a point worth emphasizing that today's Bachmann clue was downgraded in value by half from her debut Jeopardy! clue back in June – in an episode that aired just a few days after she had announced at the first New Hampshire debate that she would be seeking the Republican nomination for the presidency.
Still, with two clues under her belt inside of seven months on one of the nation's most-watched game shows, the Minnesota congresswoman will boast even greater name recognition in her 2012 U.S. House contest than her record-setting 2010 campaign, and will undoubtedly flex significant fundraising muscle once again this year.
Minnesota was well represented on Wednesday's episode. During the second round, in the category "Presidential Reelections," the $400 clue read:
"This man won D.C. & (by 3,700 votes) Minnesota & that's it as Reagan won re-election."
A contestant correctly answered, "Who is Mondale?"
Follow Smart Politics on Twitter.