Why is Mitt Romney Feeling Blue? Candidate Necktie Colors at the GOP Debates
Romney has worn a blue tie in 17 of 18 presidential debates; his opponents usually wear red and Gingrich has not worn a blue tie once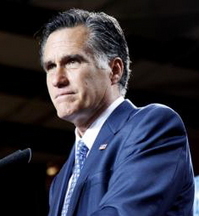 When candidates are on the campaign trail, such as at a manufacturing facility, they sometimes have the freedom to break out the flannel shirts and roll up their sleeves.
But when taking the stage at a presidential debate, (male) candidates are somewhat limited in their manner of dress – with dark suits and white shirts staples for such proceedings.
Where candidates can make a fashion – or political – statement, is in their choice of necktie.
Previous Smart Politics research has demonstrated that Republican governors are three times as likely to choose a red tie over a blue tie, in keeping with the modern symbol of their political party.
And this year's presidential candidates?
To paraphrase Mark Twain, if clothes make the candidate, then Mitt Romney may be sending out some very telling nonverbal cues.
A Smart Politics analysis of the 19 Republican presidential debates conducted through the CNN debate in Jacksonville Thursday evening finds that while his chief rivals have generally opted for a red tie, Mitt Romney has worn a blue tie in 17 of the 18 debates in which he has participated, or 94 percent of the time.
The only debate in which Romney wore a red tie was the first Florida debate held in Tampa last September.
In every other debate, Romney has proudly flaunted his blue colors – standing apart from the remaining male GOP candidates, who have worn blue ties on just 21 occasions out of 95 debate appearances, or only 22 percent of the time.
Red was by far the most common color sported by the anti-Romney candidates, choosing the hue most associated with the Republican Party 45 times thus far.
Newt Gingrich, who has tried to score points in recent weeks by calling his chief Republican presidential opponent a "Massachusetts moderate," has not yet made the link to the voters that Romney's blue ties might be a signal for a less than conservative presidential administration.
Gingrich is one of just two candidates (along with Herman Cain) never to wear a blue tie in a debate thus far, choosing red on 11 occasions, a red/blue hybrid once, and other colors in his six remaining debates.
The candidate who most frequently wore red ties is the field's most recent dropout, Rick Perry. Perry sported a red tie in 10 of the 13 debates, or 77 percent of the time, while going blue just three times.
Rick Santorum has donned a red tie in 12 debates, a blue tie in six, and a salmon tie in one, with Ron Paul wearing red eight times, blue four times, and a red/blue mix four times.
While they didn't normally wear blue like Romney, the other two candidates frequently caught without red around their necks were Herman Cain and Jon Huntsman.
Cain's yellowish-gold tie was a staple for the former candidate, wearing it in 10 of the 11 debates in which he participated.
Cain even received a compliment from Huntsman in the second Florida debate last September when Huntsman described why he would pick the former Godfather's CEO as his running mate from the pool of candidates on the stage:
"Herman Cain, because of his selection of ties, the fact that — the fact that we both — we both apparently agree with the gold standard, wearing the yellow ties here tonight."
Huntsman, meanwhile, was by far the most dynamic – or erratic – dresser when it came to neckties among the Republican candidates.
The former Utah governor was alternately seen wearing blue (x4), red (x2), yellow (x2), pink (x2), and purple (x1) ties during his 11 debate appearances.
Choice of Tie Color by Republican Candidates During the 2012 Presidential Debates
| | | | | |
| --- | --- | --- | --- | --- |
| Candidate | Red | Blue | Red/Blue | Other |
| Mitt Romney | 1 | 17 | 0 | 0 |
| Newt Gingrich | 11 | 0 | 1 | 6 |
| Rick Santorum | 12 | 6 | 0 | 1 |
| Ron Paul | 8 | 4 | 4 | 2 |
| Rick Perry | 10 | 3 | 0 | 0 |
| Jon Huntsman | 2 | 4 | 0 | 5 |
| Herman Cain | 1 | 0 | 0 | 10 |
| Tim Pawlenty | 0 | 2 | 0 | 1 |
| Gary Johnson | 0 | 2 | 0 | 0 |
| Total | 45 | 38 | 5 | 25 |
Note: Table denotes the dominant color in the necktie worn by the candidate. Data compiled by Smart Politics.
During Thursday night's gathering in Jacksonville, the blue-tied Romney had one of his strongest debates, and for the 11th time in the last 14 debates, led the field with the most speaking time on the stage.
Romney spoke for 24 minutes and 18 seconds, or 29.7 percent of the total candidate speaking time.
Romney was followed by the red-tied Rick Santorum at 22 minutes and 18 seconds (27.2 percent), the purple-striped Newt Gingrich at 21:26 (26.2 percent), and the red-tied Ron Paul far behind once again at 13:51 (16.9 percent).
Total Candidate Speaking Time in CNN Florida GOP Presidential Debate
Candidate

Time

Percent

Mitt Romney

24 min. 18 sec.

29.7

Rick Santorum

22 min. 18 sec.

27.2

Newt Gingrich

21 min. 26 sec.

26.2

Ron Paul

13 min. 51 sec.

16.9
Data compiled by Smart Politics.
Follow Smart Politics on Twitter.