Ron Paul: Don't Pin Me Down!
The Texas Congressman is the only major 2012 Republican presidential candidate to take the debate stage without once wearing a lapel pin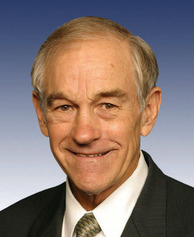 While many prominent politicians (and broadcasters) don't think twice about wrapping themselves around the symbols of patriotism ever since the attacks on 9/11 more than a decade ago, there is one 2012 Republican presidential candidate who has opted not to wear his patriotism…on his suit lapel.
A Smart Politics analysis of the 2012 Republican primary election campaign finds that Ron Paul is the only major GOP White House hopeful who has yet to wear a lapel pin during a debate.
Congressman Paul has participated in 18 debates thus far and has never worn a lapel pin once – in stark contrast to the rest of the GOP field, which has donned a pin more than 75 percent of the time (81 of 107 debate participants to date).
While Paul – the only remaining GOP candidate left in the race who served in the military – chooses not to adorn American symbols on his attire, every other major candidate who has participated in the debates has done so at least half of the time.
Herman Cain wore a lapel pin 100 percent of the time he took the debate stage, followed by Rick Perry at 92 percent, Rick Santorum at 90 percent, Michele Bachmann at 83 percent, Mitt Romney at 78 percent, Tim Pawlenty at 67 percent, Jon Huntsman at 55 percent, and Newt Gingrich at 50 percent.
After sporting a naked lapel during his first three debates through the gathering at the Reagan Library in California, Mitt Romney has worn a flag pin in every debate since – with one exception.
The former Massachusetts governor neglected to wear a pin during the fourth South Carolina debate in Charleston.
Two days later, Newt Gingrich crushed Romney in the Palmetto State's primary and Romney made sure to wear his flag pin during the next two debates in Florida.
Coincidence?
Overall, Romney has worn a pin of the U.S. flag in 14 of 18 debates.
Rick Santorum has likewise generally been steadfast in wearing a label pin – failing to do so in only the first debate in Iowa and the fourth debate in Florida, sporting traditional flag pins in 14 of the 17 occasions in which he has decorated his left lapel.
Newt Gingrich, meanwhile, did not wear a pin throughout the first nine debates in which he participated from the first New Hampshire debate through the second South Carolina debate).
However, in the subsequent nine debates from D.C. onwards, the former House Speaker has worn a blue flag pin on his suits without fail.
Frequent pin-wearing candidates from those who have exited the GOP race were Rick Perry (in 12 of 13 debates), Michele Bachmann (in 10 of 12), and Herman Cain (in 11 of 11). Bachmann and Cain usually wore traditional U.S. flag pins, while Perry exclusively wore a "Silver Antelope" pin – an award given for outstanding longtime service to the Boy Scouts of America.
Jon Huntsman wore pins in six of his 11 debates with Tim Pawlenty doing so in two of the three debates in which he participated.
Note: Minor (and former) Republican presidential candidate Gary Johnson – who is now seeking the Libertarian nomination – did not wear a lapel pin in either of his two debate appearances in South Carolina (last May) and Florida (last September).
Republican Presidential Candidates Wearing Lapel Pins in the Debates
Candidate

Wore pin

No pin

Percent

Herman Cain

11

0

100.0

Rick Perry

12

1

92.3

Rick Santorum

17

2

89.5

Michele Bachmann

10

2

83.3

Mitt Romney

14

4

77.8

Tim Pawlenty

2

1

66.7

Jon Huntsman

6

5

54.5

Newt Gingrich

9

9

50.0

Ron Paul

0

18

0.0

Gary Johnson*

0

2

0.0
* Currently seeking Libertarian Party nomination. Data compiled by Smart Politics.
Follow Smart Politics on Twitter.