O Canada: Ron Paul Excels in Northern Border States
The vote for Paul is nearly double in states bordering Canada compared to the rest of the nation for both caucuses and primaries during the 2008 and 2012 election cycles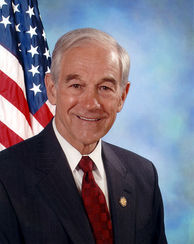 At times – particularly highlighted during the Republican debates – Ron Paul must feel alone in the wilderness.
The Texas Congressman has frequently been the lone wolf in the GOP field calling for a series of dramatic foreign and domestic policy reforms – such as a $1 trillion slashing of the federal budget, ending foreign entanglements, and closing most U.S. military bases around the world.
While Paul's close second place finish in the Maine caucuses on Saturday was disappointing for the campaign as it seeks to notch its first official win, the results underscore a clear pattern that has emerged since his first GOP White House bid four years ago.
The congressman representing one of the most southern U.S. House districts in the nation excels on the northern border.
A Smart Politics review of the 61 Republican state primaries and caucuses conducted during the 2008 and 2012 presidential election cycles finds that Ron Paul receives a 123 percent higher vote percentage in states bordering Canada (16.3 percent) than the rest of the country (7.3 percent).
A total of 14 states border Canada by land or water (or both): Alaska, Washington, Idaho, Montana, North Dakota, Minnesota, Wisconsin, Michigan, Ohio, Pennsylvania, New York, Vermont, New Hampshire, and Maine.
Over the last four years, these states have thus far held 19 contests during the GOP presidential nomination phase – 15 in 2008 and three in 2012.
Of course, a disproportionate number of these contests have been caucuses – eight of 19 – where Paul has been to known to perform particularly well. (Only seven of the 42 other contests in the remaining 36 states since 2008 have been caucuses).
Overall, Paul has averaged precisely double the vote across the 15 caucuses held since 2008 (16.2 percent) as compared to the 46 primaries (8.1 percent).
However, the vote for Paul in caucus contests has been more than double in states bordering Canada (22.7 percent) as compared to those states not bordering the nation's neighbor to the north (10.7 percent).
In other words, Paul performs 112.1 percent better in caucus states along the Canadian border than in caucus states elsewhere (+12.0 points).
Paul's worst performance in a Canadian border state caucus was his 15.7 percent showing in Minnesota in 2008.
He has also tallied 17.3 percent in Alaska (2008), 18.4 percent in Maine (2008), 21.3 percent in North Dakota (2008), 21.6 percent in Washington (2008), 24.5 percent in Montana (2008), 27.1 percent in Minnesota (2012), and 35.7 percent in Maine (2012).
Meanwhile, the congressman has eclipsed the 20 percent mark only once in the seven non-Canadian border state caucus contests – his 21.4 percent third place showing in Iowa this year.
Paul's other showings include 18.7 percent and 13.7 percent in Nevada (2012, 2008), 11.2 percent in Kansas (2008), 10.0 percent in Iowa (2008), and 0 percent in West Virginia (2008) and Wyoming (2008).
Likewise, Representative Paul has turned in stronger performances in primary states bordering Canada than those not on the border.
Paul has averaged 11.6 percent of the vote across the 11 primaries held in northern border states since 2008 compared to just 6.6 percent across the 36 primaries conducted in states that do not border Canada.
That amounts to an 75.8 percent increase in the vote for Paul in primaries held in states along the Canadian border (+5.0 points).
The congressman has eclipsed the 15 percent mark four times out of 11 primaries in Canadian border states: 23.7 percent in Idaho (2008), 22.9 percent in New Hampshire (2012), 21.5 percent in Montana (2008), and 15.5 percent in Pennsylvania (2008).
Meanwhile, Paul has reached the 15 percent mark just once out of 36 primaries in non-northern border states – notching 16.5 percent in South Dakota in 2008.
Perhaps the rugged, independent, and often geographically isolated electorate in many of these northern border states finds kinship with a candidate who often finds himself alone in the wilderness in his own party.
Boost for Ron Paul in States Along the Canadian Border by Contest Type, 2008-2012
| | | | |
| --- | --- | --- | --- |
| Location | Contest type | # | Percent |
| Canadian border | Caucus | 8 | 21.1 |
| Non-border | Caucus | 7 | 10.7 |
| Difference | Caucus | | +10.4 points |
| | | | |
| Canadian border | Primary | 11 | 11.6 |
| Non-border | Primary | 35 | 6.6 |
| Difference | Primary | | +5.0 points |
Table compiled by Smart Politics.
Follow Smart Politics on Twitter.