Kucinich Flirtation with Washington Yields Modest Fundraising Boost from Evergreen State
The State of Washington ranks fifth in large donor contributions (and eighth per capita) to Kucinich's 2012 reelection campaign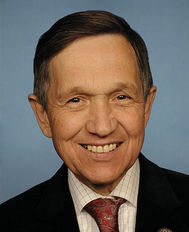 It is not yet known whether Ohio Democratic U.S. Representative Dennis Kucinich's six-month flirtation that he might pack up and run for reelection in the State of Washington will damage his chances of returning to D.C. next fall in the state's reconfigured 9th Congressional District.
Kucinich, who represents the 10th CD but was jittery about the Buckeye State's newly drawn congressional district lines, had explored a 2012 run across the country in the Evergreen State – a bold move considering no U.S. Representative has won reelection in back-to-back cycles after moving to a new state in the history of the House.
Kucinich's end of the year FEC filings suggest his Washington dalliance garnered the congressman only modest interest among residents of the state.
A Smart Politics review of itemized individual contributions to Dennis Kucinich's 2012 campaign finds he raised the fifth largest amount of large donor money from Washington in 2011.
Large donor money accounted for only 38 percent of Kucinich's $568K haul from individuals last year – with $411K coming from small donors.
Washington residents contributed $7,855 in itemized funds in 2011 – behind only California ($47,003), Ohio ($17,615), New York ($17,122), and Massachusetts ($9,635).
Two-thirds of this money ($5,265) was raised during the March-to September period wherein Kucinich was considering a run out west.
Two years ago, Kucinich raised just $1,000 in large donor money from Washington during this six-month time frame, and $2,950 for 2009 overall.
When looking at large donor giving per capita, Kucinich's receipts from Washington rank eighth in the nation for 2011 at $116 per 100,000 residents – behind New Hampshire ($326), Washington D.C. ($249), Alaska ($168), Ohio ($152), Massachusetts ($147), California ($126), and Hawaii ($120).
It does not appear that the congressman's Washington exploration has hurt his in-state fundraising thus far.
The $17,615 in large donor money Kucinich has amassed from Ohio residents in 2011 is 18 times the amount he had gathered from his home state at this stage two years ago at the end of 2009 ($950).
Kucinich, now in his eighth term in the House in the Buckeye State's 10th CD, will square off against 15-term incumbent Marcy Kaptur in the 9th CD in the Democratic primary.
Kucinich has raised more than twice as much money as Kaptur to date – $603,433 to $281,358.
Fortunately for Congressman Kucinich, his overall 2011 fundraising levels are up 123 percent over the same period two years ago.
Kaptur's fundraising is likewise up 129 percent from two years ago, but on a much smaller scale than the former two-time presidential candidate.
Follow Smart Politics on Twitter.