A State Divided: Will Romney or Santorum Reach 40 Percent in Michigan?
Tuesday's winner could set the all-time state mark for the lowest victory total in a Michigan presidential primary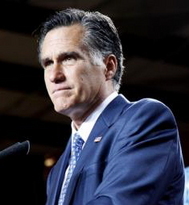 Whether its primary has fallen early or late on the calendar, and whether there has been just a couple or several names on the ballot, the battle in the Wolverine State for the Republican Party presidential nominee has generally not been hotly contested over the decades.
In fact, since the state resumed primaries in 1972 after a 40+ year hiatus (with a caucus in 1988), only once has the winner failed to win a majority of the vote.
That winner, of course, was Mitt Romney in 2008, when he recorded just 38.9 percent of the vote in a 9.2-point win over eventual nominee John McCain.
But with a strong battle brewing between Romney and Rick Santorum this year – and the very real possibility that all four GOP candidates could end up in double digits – the likelihood that any candidate will eclipse the 50 percent is rather remote.
And even 40 percent is in doubt.
Prior to 2008, the last time a Republican failed to capture a majority of the primary vote was 1920, when California U.S. Senator Hiram Johnson won with 38.4 percent of the vote over former Army officer Leonard Wood.
(Both Wood and Johnson would pull in significant support in GOP convention balloting, eventually losing to Warren Harding on the 10th ballot).
Michigan repealed the presidential primary in 1931 until it was reestablished in 1972.
Richard Nixon received 95.5 percent of the vote that year with soft competition in the Michigan primary (from U.S. Representative Paul McColoskey).
Michigander Gerald Ford followed that up with 64.9 percent in a 30.7-point win over Ronald Reagan in 1976.
George H.W. Bush then recorded victories tallying 67.6 percent in 1980 over Ronald Reagan, 56.6 percent in the 1988 caucus over Pat Robertson, and 67.2 percent in 1992 over Pat Buchanan. (Reagan ran uncontested in 1984).
Bob Dole (50.6 percent) and John McCain (51.0 percent) won with narrower majorities in 1996 and 2000 respectively.
But in both 2008 and 2012, the 40 percent mark seems to be the ceiling for candidate support in Michigan, with Romney reaching that mark just twice in more than two dozen public opinion polls conducted since late last spring.
Both Romney and Santorum are now consistently polling in the mid- to high 30s, but with at least 10 percent of the electorate still undecided, there is a good chance the eventual winner will avoid dropping below Hiram Johnson's 38 percent for the all-time lowest mark for a primary election victor.
Follow Smart Politics on Twitter.