Will Snowe Retirement Give Maine Democrats Rare Congressional Delegation Majority?
Democrats have held a majority of U.S. Senate and U.S. House seats from Maine for just seven out of 79 cycles since the formation of the GOP in the 1850s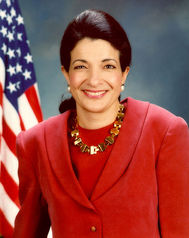 Tuesday's announcement by three-term U.S. Senator Olympia Snowe that she would not seek reelection this November may have pleased conservatives and Tea Party members who were frustrated by her moderate voting record, but it was undoubtedly a blow to the Republican Party as they seek to gain control of the nation's upper legislative chamber.
Snowe's seat moves from safe Republican to an instant toss-up in which both parties will be scrambling for their best candidate.
And now, presuming Democrats hold each of the state's two congressional districts in 2012 – both of which have remained blue since the Election of 1996 – the Party has its best chance to land a majority of seats in the state's congressional delegation for the first time in nearly 40 years.
A Smart Politics review of Maine electoral history finds that Democrats have held a majority of U.S. Senate and U.S. House seats from the Pine Tree State for just seven of 79 electoral cycles since the formation of the Republican Party in 1854.
By contrast, Republicans have held a majority of seats in Maine's congressional delegation for 57 cycles, with the two parties deadlocked 15 times, including each of the last eight.
The last time Democrats held a majority of Maine's seats on Capitol Hill was during the 93rd Congress from 1973-1974 when Edmund Muskie and William Hathaway sat in the Senate and Peter Kyros represented the 1st CD.
Democrats also held a majority of seats in the 62nd (1911-1912), 73rd (1933-1934), 86th (1959-1960), 90th (1967-1968), 91st (1969-1970), and 92nd (1971-1972) Congresses.
Maine, like many northeastern states, used to be a haven for Republicans since the formation of the GOP.
In fact, the Democratic Party has never held all U.S. Senate and House seats in Maine, while Republicans have enjoyed a clean sweep of the delegation to Capitol Hill during 84 of the last 158 years, or 53 percent of the time.
Of course, should either U.S. Representatives Chellie Pingree or Michael Michaud run for Snowe's seat, Democrats will have to work a bit harder to keep that open seat blue in November.
Follow Smart Politics on Twitter.