Gingrich Advocated Brokered Convention in 2008 GOP Presidential Race
The former House Speaker's dream of an open convention for his party has been lingering for years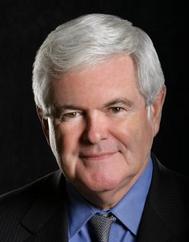 Although he is taking significant heat in some quarters by remaining in the Republican presidential race with just two victories under his belt out of 31 contests, Newt Gingrich's appetite for making the Republican Party's presidential nomination contest a marathon that turns into a brokered convention has grown from seeds planted years ago.
In 2008, the Republican primary season began – as it did in 2012 – with three different candidates winning the first three contests.
Mike Huckabee won in Iowa, Mitt Romney was victorious in Wyoming, and John McCain was the winner in New Hampshire.
This refueled what turns out to have been an extremely premature discussion that the GOP was perhaps headed for a brokered convention.
In fact, Tony Blankley of the Washington Times had penned a column "None of the above; Republicans heading toward a brokered convention" (December 19, 2007) in which he bemoaned the lack of quality candidates in the field and wrote, "I fear our intra-party fury will destroy all leaders and send us off to a brokered convention – and from thence probably to defeat."
Less than a month later, on January 13, 2008, and five days after the New Hampshire primary, Gingrich appeared in a Sunday morning interview with George Stephanopoulos of ABC News.
During the interview, the subject of a long, drawn out Republican primary and a brokered convention took center stage:
GEORGE STEPHANOPOULOS: The website Daily Kos which supports Democrats is actually urging Democrats to cross over and vote in the Republican primary, vote for Mitt Romney so that the Republican race is wide open and it takes them forever to come up with a nominee.
NEWT GINGRICH: But this may be a big mistake. For this reason, nothing is more killing in politics than boredom. This country – and I said – you remember I was on this show last year saying this. This country began deciding Iowa about four days out. This country apparently began deciding New Hampshire about a day out because apparently 20-some percent of the Democrats decided the last day. The idea that the Republicans have to be organized before Labor Day or they will be out of the race I think is a fundamental misunderstanding of television, the internet, you know YouTube, all the things we now communicate with. A very exciting Republican Party that actually talked about ideas and actually had a fight over the platform based on real ideas, I think might be a more interesting party than one which nominates somebody who's boring for five months.
In the interview, Stephanopouos also floated the idea of Gingrich himself emerging at such a convention and walking away with the nomination.
The former House Speaker came far short of giving a hard 'no.'
GEORGE STEPHANOPOULOS: They suggest a brokered convention might turn to you. Are you open to that?
NEWT GINGRICH: I do not think – I think a brokered convention would pick one of the people who had filed for president. But I think the process – after all, it was – you know Abraham Lincoln was running third and won the convention. He didn't come in first on the first ballot. And so I just think there's nothing unhealthy about the Republican Party having a serious discussion. We are at the end of the George W. Bush era. We are at the end of the Reagan era. We're at a point in time where we're about to start redefining – as a number of people have started talking about that we're starting to redefine the nature of the Republican Party in response to what the country needs.
The argument that Gingrich's advocacy for an open convention in 2012 is simply political expediency resulting from his struggling campaign does not seem quite as convincing when viewed in this context.
In fact, it seems a return to the brokered convention is actually one of the "big ideas" that may have been long held by the country's most famous living historian-politician.
Follow Smart Politics on Twitter.