Moments in Etch A Sketch Political History
Al Gore and Barack Obama have both been likened to the classic Ohio Art Company toy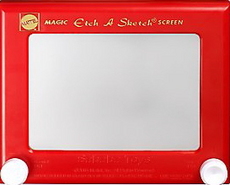 With headlines like "The Etch-A-Sketch Candidate" (Hardball), "The Etch A Sketch Campaign" (POLITICO), "Etch-A-Sketch: Can Mitt Romney shake off his aide's Mr. Potato Head gaffe?" (Christian Science Monitor), and "Etch A Sketch Mania Takes Hold of Campaign Conversation" (ABC News), a statement by Mitt Romney's communications director Eric Fehrnstrom has launched a media feeding frenzy, and one of America's top toy companies into the heart of a fractured Republican Party primary.
Fehrnstrom was asked by CNN's John Fugelsang on Wednesday whether the campaign was concerned Romney was being pushed so far to the right by his primary challengers that it would ultimately hurt him in the general election with moderates.
His response:
"Well, I think you hit a reset button for the fall campaign. Everything changes. It's almost like an Etch-A-Sketch. You can kind of shake it up and restart all of over again. But I will say, if you look at the exit polling data in Illinois, you'll see that Mitt Romney is broadly acceptable to most of the factions in the party. You have to do that in order to become the nominee…" – Eric Fehrnstrom (March 21, 2012)
Within hours, Romney's competitors were displaying and handing out Etch A Sketches at campaign events, the toy was trending on Twitter, and the company's PR spokeswoman issued a statement about the brouhaha.
But this isn't the first time the Ohio Art Company's famous toy has been thrust into the political debate.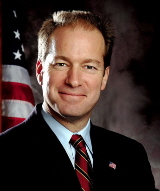 A little over two years ago, during President Barack Obama's bipartisan meeting on health care reform insurance coverage, Illinois Republican U.S. Representative Peter Roskam of the state's 6th CD offered up the toy as a solution to resolve the divide on the issue on Capitol Hill:
"I'll tell you what, a year's worth of work, and this is what is come up with? The American public, as far as the ones that I have heard from, are vehemently opposed to this. And they say, look, take the Etch A Sketch, go like this, let's start over, let's do incremental things where there's common ground." – Representative Peter Roskam (February 25, 2010)
The news media has also used the phrase to describe political figures themselves.
After the 2000 presidential election was finally resolved, Craig Crawford – then Editor in Chief of the Hotline – was asked by CBS' Bryant Gumbal what the New Year had in store for Al Gore after his devastating defeat:
"Well, I think Al Gore is sort of the Etch-A-Sketch man. He's disappearing. I'm not sure we're going to see a lot from him and Bill Clinton is going to rise to–to the surface and be the leader of the party." – Craig Crawford (January 1, 2001)
When Hillary Clinton began mounting her comeback during the 2008 Democratic primary, it was Barack Obama's turn – this time from the mouth of Republican strategist Leslie Sanchez on CNN:
"I think Barack Obama opened himself up when he said he's a — a blank slate that people can project their own political opinions on. I think now people think he's an Etch a Sketch. They're turning it over. They're getting a different perspective of him." – Leslie Sanchez (March 4, 2008)
The classic toy endured another metaphorical beating a year later on MSNBC when Rachel Maddow took jabs at George W. Bush:
"So when it came to controversial issues during the Bush era, issues like say torture, rendition, offshore secret prisons, Bush administration lawyers sort of treated the Constitution like an Etch A Sketch. Torture is illegal? Not if you just shake the law real hard and start over. Neat. Nothing is immutably illegal, right? Well, now an internal Justice Department report on the Bush administration`s legal Etch A Sketching is causing much consternation among Bush`s senior lawyers. A little later on, Newsweek`s Michael Isikoff will be here with the story, and to help us scrub, rinse, repeat." – Rachel Maddow (February 16, 2009)
But one of the first instances of the politicization of the Etch A Sketch occurred during the Clinton administration, when the often wry Charles Osgood name-dropped the product in a commentary on the Monica Lewinsky scandal on CBS:
"Other things did happen in the world last week, but you would be forgiven for not knowing what they might be. How could you? About all there was to see on the national Etch-A-Sketch was what might have been a continuing single episode of some prime-time soap opera–"Washington, DC 20500," you might say–featuring a middle-aged president of the United States, a young woman in her 20s, a great variety of lawyers and any number of talking heads, many of whom changed before our very eyes into screaming heads as they argued their versions of what was going on. It was salacious and scandalous and tawdry and discomfiting and everything you'd want a miniseries to be, only it wasn't a miniseries. It was the news." – Charles Osgood (January 25, 1998)
If there is a bright side for Romney, at least he is now being likened to a toy that is manufactured in the color red, whereas he has frequently been associated with the color blue.
Sales of the toy spiked over the course of the day Wednesday – jumping from #1,887 in the Toys & Games category at Amazon in the afternoon to #196 by midnight.
Follow Smart Politics on Twitter.