Beyond 'Forward': State Mottos and Slogans for the 2012 GOP Field
Obama lifted Wisconsin's motto, so which state mottos and slogans might the Republican candidates have picked for their campaigns?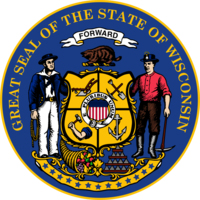 Barack Obama's presidential campaign unveiled a new slogan this week, which just so happens to be the state motto of Wisconsin: "Forward."
The Obama campaign was alternately skewered for both looking back in the Forward video, and also for borrowing its slogan from an MSNBC ad campaign as well as from communist China (and its "Great Leap Forward").
In that spirit, Smart Politics roasts the other 2012 candidates by considering state mottos and slogans that might just be well-suited for Mitt Romney, Ron Paul, and all the former Republican presidential candidates from this election cycle…
…well-suited, that is, insofar as their frequent media portrayals are concerned…
State Mottos and Slogans for 2012 Republican Candidate Campaigns
Candidate

Campaign slogan

State

Rationale

Mitt Romney

'Come as you are. Leave different.'

LA (slogan)

Etch-A-Sketch and flip-flops.

'Gold and silver.'

MT (motto)

Car elevator.

Newt Gingrich

'To the stars through difficulties.'

KS (motto)

Infamous moon policy.

'Like no place on Earth.'

WY (slogan)

(see above)

Ron Paul

'Enter a higher state.'

CO (slogan)

Ending the drug war.

'The people rule.'
'Under God, the people rule'
'Live free or die.'

AR (motto)
SD (motto)
NH (motto)

Practically lifted from his campaign literature.

Herman Cain

'We're full of surprises.'

CT (slogan)

Yes, he was.

Tim Pawlenty

'Stay just a little bit longer.'

WI (slogan)

"If only I had," he thinks.

Rick Perry

'Land of ahhs.'

KS (slogan)

And also ummms, in the GOP debates.

'Feels like coming home.'

MS (slogan)

After an ill-prepared campaign.

Rick Santorum

'Mile after magnificent mile.'

IL (slogan)

Hit all 99 counties in Iowa.

'The way life should be.'

ME (slogan)

Pining for days of yore.

Jon Huntsman

'One sows for the benefit of another age.'

ND (motto)

(Seven kids)

'It's like a whole other country'

TX (slogan)

Did he mention he lived abroad four times?

Michele Bachmann

'Memories last a lifetime.'

PA (slogan)

But her campaign lasted just 192 days.

'She flies with her own wings.'

OR (motto)

Definitely not on Marcus' coattails.
Follow Smart Politics on Twitter.