Romney Lowers Bar for Presumptive GOP Nominees in Indiana
Romney is the only presumptive Republican presidential nominee to fail to win two-thirds of the vote in the Hoosier State over the last 56 years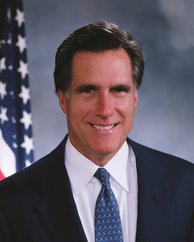 While Mitt Romney won the Indiana Republican presidential primary on Tuesday, his performance once again failed to insulate his campaign from questions about his ability to rally the GOP base this cycle.
With now only one other active candidate in the race – Ron Paul – Romney still failed to capture two-thirds of the vote in what amounts to the least impressive victory in the Hoosier state for a presumptive GOP nominee over the last 50+ years.
A Smart Politics review of Indiana Republican presidential primary data finds that the 64.7 percent showing by Mitt Romney on Tuesday is lowest winning percentage for a presumptive GOP nominee over the last 15 primaries conducted since 1956, with the exception of the Reagan-Ford showdown that lasted to the convention.
Romney fell more than 10 points shy of John McCain's 77.6 percent mark in 2008 and more than 15 points short of George W. Bush's 81.2 percent in 2000.
Aside from Ronald Reagan's win with 51.3 percent against Gerald Ford in 1976 – in which there was no decisive frontrunner or presumptive nominee at the time of the Indiana primary – the previous low water mark for a winner in Indiana over the last 50 years was Barry Goldwater's 67.0 percent in 1964 when he defeated former Minnesota Governor Harold Stassen.
Excluding the Reagan/Ford matchup and the four cycles in which candidates ran unopposed (1968, 1972, 1984, 2004), the average winning percentage for presumptive Republican nominees in Indiana is 80.2 percent, or 16.5 percentage points higher than Romney.
Ron Paul finished second on Tuesday with 15.5 percent which doubled his 7.7 percent showing in 2008.
Ex-candidates Rick Santorum and Newt Gingrich finished in third and fourth place with 13.3 percent and 6.4 percent of the vote respectively.
The Indiana primary has been conducted between in the first eight days of May throughout this 50+ year period.
On Tuesday Romney also had the third lowest GOP winning percentage in the post-1972 modern primary era in both North Carolina and West Virginia.
Indiana Presidential Republican Primary Winners, 1956-2012
Year

Winner

%

2nd place

%

MoV

2012

Mitt Romney

64.7

Ron Paul

15.6

49.1

2008

John McCain

77.6

Mike Huckabee

10.0

67.6

2004

George W. Bush

100.0

(unopposed)

0.0

100.0

2000

George W. Bush

81.2

John McCain

18.8

62.4

1996

Bob Dole

70.8

Pat Buchanan

19.4

51.4

1992

George H. W. Bush

80.1

Pat Buchanan

19.9

60.2

1988

George H. W. Bush

80.4

Bob Dole

9.8

70.6

1984

Ronald Reagan

100.0

(unopposed)

0.0

100.0

1980

Ronald Reagan

73.3

George H.W. Bush

16.4

56.9

1976

Ronald Reagan

51.3

Gerald Ford

48.7

2.6

1972

Richard Nixon

100.0

(unopposed)

0.0

100.0

1968

Richard Nixon

100.0

(unopposed)

0.0

100.0

1964

Barry Goldwater

67.0

Harold Stassen

26.8

40.2

1960

Richard Nixon

95.4

Frank Beckwith

4.6

90.8

1956

Dwight Eisenhower

96.4

Lawrence Daly

3.7

92.7
Table compiled by Smart Politics.
Follow Smart Politics on Twitter.