Romney's Numbers Underwhelm in Final Primary Contests
Romney has carried just three out of 43 states this cycle with 70+ percent of the vote, compared to an average of more than 15 states by previous presumptive GOP nominees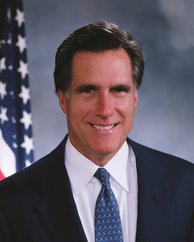 While Barack Obama has had his own troubles with protest votes on the Democratic side of the ticket in recent primaries (e.g. West Virginia, Kentucky, Arkansas), presumptive Republican nominee Mitt Romney is also turning in less than convincing performances to assuage doubts that he has solidified the GOP base behind him, despite effectively wrapping up the party's nomination more than a month ago.
Romney again failed to reach the 70 percent mark in both primaries held on Tuesday – tallying 68.3 percent in Arkansas and barely getting two-thirds of the vote in Kentucky (66.8 percent).
With the nomination not in doubt for the former Massachusetts governor, the scale of his victories in the remaining contests may seem trivial at first blush.
However, when comparing Romney's primary resume against his predecessors, the collective level of support lingering for Ron Paul, Rick Santorum, and even Newt Gingrich in these waning primaries may be cause for concern.
A Smart Politics review of Republican primary election data finds that with just seven contests left, Mitt Romney has eclipsed the 70 percent mark in only three of 43 states, and is on pace for the fewest such blowout victories among any Republican nominee who wrapped up the nomination before the convention in the modern primary era.
In the 2012 cycle, Romney has only reached 70 percent of the vote in his home state of Massachusetts (72.2 percent) and the two primaries conducted last week in Oregon (72.1 percent) and Nebraska (70.9 percent).
The former governor was not able to sustain this momentum in the south on Tuesday, however, as nearly one-third of Kentucky and Arkansas voters still cast their ballots for ex-candidates or, in the case of 5.9 percent of Kentucky voters, "uncommitted."
Romney will add to his total, as he is likely to turn out big numbers on his behalf in the upcoming primaries in Utah, New Jersey, and perhaps California, but may still have difficulties with large swaths of protest voters in states like Texas and South Dakota and perhaps Montana and New Mexico.
The previous low water mark for an eventual Republican nominee who sealed the nomination prior to the convention was seven states at 70+ percent, tallied by Bob Dole in 1996.
Dole reached 70 percent of the vote in Alabama, Arkansas, Indiana, Kentucky, New Jersey, New Mexico, and North Carolina.
(Dole also would have added an eighth state with a runaway victory in his home state of Kansas, except its primary was cancelled with delegates chosen by the Republican State Committee instead).
John McCain, who lost many more states in the 2008 primary cycle (19) as Romney has in 2012 (12), nonetheless recorded several more blow-out victories.
McCain eclipsed 70 percent of the vote in 12 states: Indiana, Kentucky, Mississippi, Montana, Nebraska, New Mexico, North Carolina, Oregon, Pennsylvania, South Dakota, Vermont, and West Virginia.
George W. Bush, meanwhile, won 70+ percent of the vote in 20 states in 2000: Alabama, Arkansas, Florida, Idaho, Kentucky, Louisiana, Mississippi, Montana, Nebraska, New Jersey, New Mexico, North Carolina, Oklahoma, Oregon, Pennsylvania, South Dakota, Tennessee, Texas, and West Virginia.
Ronald Reagan reached 70 percent in 15 states in 1980 as did George H.W. Bush in 1988. Bush carried 23 states with 70+ percent in 1992 when he was challenged by Pat Buchanan.
The eventual Republican nominees in 1980, 1988, 1992, 1996, 2000, and 2008 also won at least 80 percent of the vote in 43 states, or an average of 7.2 states per cycle.
Romney has yet to hit the 80 percent mark in any state, though will undoubtedly do so in Utah on June 26th, where he received 89.5 percent in 2008.
Romney's frontrunner woes started weeks ago when he failed to reach the 60 percent mark in Delaware and Pennsylvania – the first time a GOP frontrunner has failed to do so in a contest conducted after his last major challenger dropped out of the race.
Follow Smart Politics on Twitter.