Wisconsin Poised to Extend Competitive Gubernatorial Election Streak
Wisconsin is expected to join Rhode Island, Iowa, and Minnesota on Tuesday for the only states currently with four or more consecutive elections decided by single digits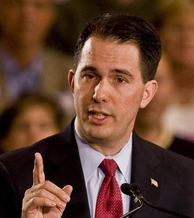 With virtually every public opinion poll on Wisconsin's recall election this year showing a single-digit lead for Scott Walker – some inside and some outside the poll's margin of error – Tuesday's gubernatorial race is almost assured to be another close race in the Badger State.
Over the last three gubernatorial elections Wisconsin ranks #5 in the nation for closest election results with an average margin of victory of just 5.6 points trailing only Minnesota (3.1 points), Oregon (4.1 points), Rhode Island (4.7 points), and Maine (5.1 points).
Wisconsin's inaugural Barrett vs. Walker matchup in 2010 was decided by 5.8 points after Democrat Jim Doyle won by 3.7 points in 2002 and 7.4 points in 2006.
The most recent public opinion poll found Walker ahead of Democratic challenger Tom Barrett by just three points – 50 to 47 percent.
If the race is decided by single digits, Wisconsin would join Rhode Island, Minnesota, and Iowa as the only states with at least four consecutive gubernatorial races decided by less than 10 points.
Rhode Island has a current streak of five such elections with its race for governor decided by single digits in 1994 (3.8 points), 1998 (8.8 points), 2002 (9.5 points), 2006 (2.0 points), and 2010 (2.5 points).
Minnesota and Iowa have seen their last four such contests decided by single digits.
Wisconsin has previously experienced similar periods of very competitive elections among the two major parties for its top executive post.
From 1855 to 1861, four consecutive elections were decided by single digits by an average of 3.9 points with Democrats winning in 1855 (0.2 points) and the GOP winning in 1857 (0.5 points), 1859 (6.6 points), and 1861 (8.4 points).
After a blowout Republican victory during the middle of the Civil War in 1863, the Badger State saw Republicans carry four more consecutive races by single digits in 1865 (9.4 points), 1867 (3.4 points), 1869 (6.3 points), and 1871 (6.4 points).
From 1881 to 1892, six consecutive races were decided by less than 10 points: Republicans won the first four in 1881 (7.0 points), 1884 (6.0 points), 1886 (6.5 points), and 1888 (5.7 points) with the Democrats claiming victory in 1890 (9.2 points) and 1892 (2.0 points).
But the most competitive stretch for gubernatorial races in state history occurred from 1954 though 1970 when nine consecutive contests were decided by single digits.
Republicans won in 1954 (3.1 points), 1956 (3.8 points), 1964 (1.2 points), 1966 (7.4 points), and 1968 (6.1 points) with Democrats winning in 1958 (7.3 points), 1960 (3.2 points), 1962 (1.0 points), and 1970 (9.3 points).
Follow Smart Politics on Twitter.