Michele Bachmann Makes Third Appearance on Jeopardy!
The Tea Party favorite's unceremonious exit from the 2012 presidential race is immortalized on TV's popular game show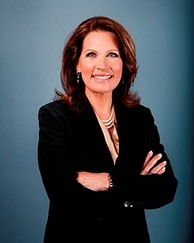 For the third time in just over a year, Minnesota's most famous officeholder entered the homes of millions of Americans – many of whom probably are not political junkies.
On Friday, three-term congresswoman Michele Bachmann was a clue once again on the syndicated show Jeopardy!
Bachmann made her Jeopardy! debut in June 2011 shortly after announcing her candidacy for president with the $800 clue in the "All Politics Is Local" category:
"In 2011 this congresswoman from Minnesota's 6th district gave a State of the Union rebuttal on behalf of the Tea Party."
Then, on January 25th of this year – the day the congresswoman announced she would run for her 6th CD seat from the Gopher State – Bachmann's name appeared in a clue under the "Child Rearing" category, downgraded to a value of just $400:
"Michele Bachmann gave her biological children this schooling; the state wouldn't let her do it with her foster kids." (Q: "What is home schooling?")
But with her stock apparently on the rise once again, on the July 6th telecast (Episode #6415), Bachmann graduated to the Double Jeopardy round, with a value of $1,600 in the category "News of the 2010s."
The clue read:
"She ended her presidential campaign right after the 2012 Iowa Caucuses."
Challenger Henry Doering, a retired public defender from Palm Springs, California, rang in first and correctly stated, "Who is Michele Bachmann?"
Bachmann's political-cultural footprint apparently remains strong – all three contestants correctly answered the clue involving Bachmann across the three episodes in which her name came up.
Unfortunately, each of these contestants who rang in for the Bachmann clue also met the same fate as the congresswoman in her abbreviated presidential run – they all lost.
· In June 2011, challenger John Mingey, a physician from Erie, Pennsylvania, finished in last place with $4,600.
· In January 2012, one-time defending champion Kirby Burnett, a poker dealer from Prior Lake, Minnesota, lost his crown with a last place finish of $13,800.
· On Friday, challenger Henry Doering also came in last place with $4,400 – well behind first place finisher and champion Stephanie Fontaine ($22,400) with second place finisher Susan Cohen at $6,200.
Despite her string of Jeopardy! appearances, Congresswoman Bachmann is not the most frequently cited Minnesota politician on the popular game show with the likes of Walter Mondale, Hubert Humphrey, and Jesse Ventura all enjoying a big head start against her.
However, Bachmann has already eclipsed former Minnesota governor and fellow 2012 presidential candidate Tim Pawlenty, who has only been the answer or question to two clues to date – and none since 2010.
Follow Smart Politics on Twitter.