No Bachmann Fatigue: Fundraising Up a Quarter Million from Two Years Ago
Despite a failed presidential bid and risk of overexposure, the Minnesota Congresswoman raises 15 percent more funds in Q2 2012 than she did in Q2 2010 during her record-breaking campaign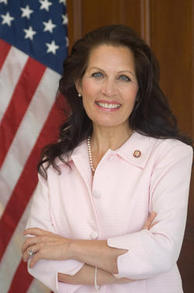 It's been a wild two-year stretch for Minnesota U.S. Representative Michele Bachmann: raising a record $13+ million en route to winning her third term from the state's 6th CD in 2010, launching a 6-month presidential campaign that peaked in August 2011 but lost ground quickly thereafter, picking up the pieces after exiting the race to run for a fourth term in the House, and driving off her well-funded 2010 challenger Tarryl Clark into the state's 8th CD.
As Bachmann faded from the national limelight in early January after her disappointing sixth place finish in the Iowa caucuses, speculation about her 2012 plans were soon put to rest later in the month when she announced she would seek a fourth term in November, running on familiar campaign promises to try to repeal Obamacare and reduce the ballooning national debt.
One question that lingered in her return to congressional campaigning was whether Bachmann – one of the few nationally known members of the chamber – could continue to leverage the kind of mammoth support from across the country that she had in previous cycles.
Would supporters return to Bachmann's camp after a disappointing presidential campaign, or had they grown bored or weary of her message and moved on to a new Tea Party figure?
The congresswoman's recently filed FEC fundraising report answers that question quite clearly.
FEC filings for the second quarter of 2012 reestablish Bachmann as one of the elite and most adept fundraisers in the U.S. House.
After a lukewarm (by her standards) $579,149 raised in Q1 of this year as she returned to campaigning for her seat, Representative Bachmann more than tripled that amount from April to June with a haul of $1,865,429.
That is good for second best among all U.S. Representatives running for reelection, behind only Allen West of Florida with $2.2 million.
Bachmann also eclipsed her Q2 2010 fundraising total ($1,616,015) by nearly a quarter of a million dollars ($249,414), or an increase of 15 percent.
Overall, Bachmann's last quarter was the fourth best of her congressional career, and the seventh time she has raised more than $1 million while running for the House:
· Q3 2010 = $5,532,000
· Q4 2010 = $3,881,903
· Q2 2011 = $1,920,799
· Q2 2012 = $1,865,429
· Q1 2011 = $1,717,765
· Q2 2010 = $1,616,015
· Q4 2008 = $1,073,462
While her new haul bests her previous second quarter returns from 2006, 2008, and 2010, the three-term U.S. Representative has not quite returned to the pace she was at one year ago before announcing her presidential candidacy.
In Q2 2011, Bachmann raised $1,920,799 – or $55,370 more than Q2 2012.
The congresswoman's new numbers continue a long-established pattern in her fundraising strategy: receiving almost no money from PACs (just 1.8 percent this quarter) and nearly two-thirds from small donors (64.2 percent).
Bachmann's DFL opponent, entrepreneur Jim Graves, raised $262,925 over the last three months, but is expected to inject his own personal wealth into his campaign.
Follow Smart Politics on Twitter.