Defense of Abedin, McCain Slow from Senate Colleagues after Bachmann Rebuke
As of mid-day Thursday, no other U.S. Senator has issued a press release defending Huma Abedin after the senior senator from Arizona's impassioned remarks in the chamber Wednesday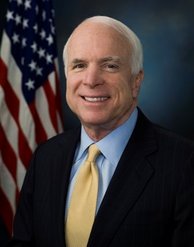 While John McCain's unusual, personal defense in the U.S. Senate Wednesday of the character of Secretary of State Hillary Clinton aide Huma Abedin and her "loyalty to our country" made headlines, the speech has not inspired an outpouring of support from fellow members of the chamber to weigh in on the controversy.
McCain's remarks were the result of a recent high profile public battle between Minnesota Republican U.S. Representative Michele Bachmann and her Gopher State Democratic colleague Keith Ellison.
Bachmann and four other congressional Republicans sent requests in mid-June to the Office of the Director of National Intelligence, the Department of Defense, the Department of Homeland Security, the Department of Justice, and the Department of State to "seek answers about the U.S. government's involvement with the Muslim Brotherhood, a group that calls for civilization jihad."
The thrust of the letter was for the various departments to investigate whether such Islamists were "destroying the Western civilization from within" – essentially, infiltrating the U.S. government.
Mentioned in that letter was Ms. Abedin, wife of disgraced ex-U.S. Representative Anthony Weiner from New York.
Bachmann and her colleagues alleged that Abedin and various members of her family were connected to Muslim Brotherhood operatives and organizations.
Representative Ellison sent a letter to Bachmann and House Republicans Trent Franks (AZ-02), Louis Gohmert (TX-01), Lynn Westmoreland (GA-03), and Thomas Rooney (FL-16) one week ago seeking more information about their request.
Bachmann sent a 16-page response the next day.
Ellison then condemned the what he called the "guilt by association" tactics utilized by his Republican colleagues on CNN Tuesday evening.
McCain's impassioned criticism of the letters sent by the five House republicans and his detailed defense of Ms. Abedin in particular was delivered on the Senate floor Wednesday, which included in part:
"To say that the accusations made in both documents are not substantiated by the evidence they offer is to be overly polite and diplomatic about it. It is far better, and more accurate, to talk straight: These allegations about Huma, and the report from which they are drawn, are nothing less than an unwarranted and unfounded attack on an honorable citizen, a dedicated American, and a loyal public servant."
McCain also issued a press release detailing his remarks.
But a Smart Politics examination of the official websites and Twitter feeds of the McCain's 99 colleagues finds that few U.S. Senators are weighing in on the controversy.
As of mid-day Thursday, only McCain had issued a press release to defend Abedin.
Massachusetts Republican Scott Brown tweeted a strong condemnation of Bachmann Wednesday evening from his campaign Twitter handle to his 41+ thousand followers:
"Rep. Bachmann's accusations about Sec. Clinton aide Huma Abedin are out-of-line. This kind of rhetoric has no place in our public discourse"
A few other senators have addressed the issue, though not in quite such a pro-active way.
Senator Lindsey Graham of South Carolina called the attacks against Ms. Abedin "ridiculous" to POLITICO Thursday and in an NPR interview Florida's Marco Rubio was more cautious in his remarks stating, "I don't share the feelings that are in that letter."
It will be interesting to watch if momentum builds and McCain's comments inspire more pro-Abedin statements from his colleagues in the coming days.
Follow Smart Politics on Twitter.