Pawlenty VP Pick Would Run Counter to 60-Year Trend in Republican Politics
Only one fellow presidential candidate has won the GOP VP nomination out of the last 15 cycles dating back to 1952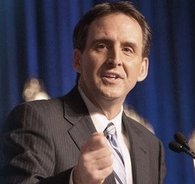 For the last several weeks, the same names are still being floated as possible vice-presidential picks for Mitt Romney – such as Rob Portman, Bobby Jindal, Marco Rubio, Kelly Ayotte, Tim Pawlenty etc.
The expanded list of VP possibilities still finds only one name – Pawlenty – that was a rival candidate of Romney's for the 2012 presidential nod.
And while Pawlenty was quick to endorse Romney after he dropped out of the race following a disappointing third place finish in the Iowa Straw Poll last year, history suggests the odds are stacked against the former Minnesota governor from securing the VP nod.
A Smart Politics analysis finds that a Republican vice-presidential nominee has been picked from the pool of that cycle's presidential contenders just one time over the last 60 years dating back to the early 1950s.
For nine cycles since the Election of 1952 the GOP vice-presidential nominee was not a presidential candidate in that election year: 1952 (Richard Nixon), 1960 (Henry Cabot Lodge, Jr.), 1964 (William Miller), 1968 (Spiro Agnew), 1976 (Bob Dole), 1988 (Dan Quayle), 1996 (Jack Kemp), 2000 (Dick Cheney), and 2008 (Sarah Palin).
In five other cycles, the vice-presidential nominee was the sitting vice-president: 1956 (Nixon), 1972 (Agnew), 1984 (George H.W. Bush), 1992 (Quayle), and 2004 (Cheney).
That means the only time a Republican vice-presidential nominee has been picked from the pool of presidential contenders over the last 15 cycles was in 1980, when Ronald Reagan chose George H.W. Bush.
Bush was Reagan's chief rival during the 1980 GOP primaries – narrowly winning the Iowa caucuses and then five other states.
By contrast, Democratic presidential nominees have been partnered with ex-presidential hopefuls from that election cycle four times during this 60-year span – in 1956 (Estes Kefauver), 1960 (Lyndon Johnson), 2004 (John Edwards), and 2008 (Joe Biden).
Prior to 1952, it was much more common for the vice-presidential nominee to be a fellow presidential candidate, sometimes as part of a backroom deal at the convention.
From 1900 through 1948, the Republican VP nominee was a presidential candidate in seven cycles (even if just winning one primary or placed into nomination as a 'favorite son' candidate): in 1916 (Charles Fairbanks), 1920 (Calvin Coolidge), 1928 (Charles Curtis), 1936 (Frank Knox), 1940 (Charles McNary), 1944 (John Bricker), and 1948 (Earl Warren).
Vice-presidential nominees were picked outside of the presidential pool for the GOP in five cycles (1900, 1904, 1908, 1912, 1924) with an incumbent VP receiving the nomination once (1932, Charles Curtis).
Pawlenty's early exit from the race last year does work in his favor insofar as he participated onstage in debates with Romney only a handful of times – thus giving him fewer opportunities to criticize the former Massachusetts governor in ways that would look suspect if later chosen as his running-mate.
Follow Smart Politics on Twitter.