Minnesota DFL 8th CD Primary Sets Statewide Record in Post-Merger Era
The last time the margin between first and third place was less than nine points in a Minnesota U.S. House primary race was 1942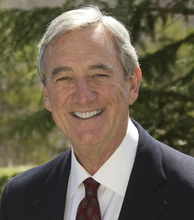 Rick Nolan's victory last week in Minnesota's 8th Congressional District DFL primary had many story lines:
· A surprising congressional run continues for a former three-term U.S. Representative more than 30 years removed from his last victory (Nolan).
· A former Michele Bachmann challenger fails after her decision to pack her bags and seek a congressional seat in seemingly more DFL-friendly waters (Tarryl Clark).
· A Republican incumbent waits in the wings defending a seat that is particularly vulnerable due in part to a (politically) risky family decision to move to New Hampshire (Chip Cravaack).
But the race also added another chapter to Minnesota electoral history – leaving a mark that had never previously been seen in the 68-year DFL era.
A Smart Politics review of Minnesota primary U.S. House election results finds that the state's 2012 8th CD DFL primary race was the closest first-to-third finish of either major party since the merger of the Democratic and Farmer-Labor parties in 1944.
Since 1944, there have been 281 U.S. House general elections in Minnesota, with more than 550 races to become the DFL and Republican nominees.
In recent years, many of these primaries have been uncontested, but over the decades hundreds of races found multiple challengers on the primary ballot.
And while Rick Nolan's defeat of Tarryl Clark by 6.1 points is far from record-breaking, what is noteworthy is the historically slim distance between Nolan and third place finisher, Duluth City Council member Jeff Anderson.
Anderson lost to Nolan by only 8.8 points, which is the narrowest first-to-third place margin in a primary by either major party in the state across the 68 years since the DFL merger.
Only a few primary contests have come close:
· In 1986, the 3rd CD DFL primary found Ray Stock winning with 38.8 percent, Joel Saliterman at 34.4 percent, and Stan Bentz at 26.8 percent for a 12.0-point first-to-third margin.
· In 1952, the 3rd CD Republican primary was won by Ed Willow with 36.7 percent with Reuben Erickson in second at 35.2 percent and John Alexander in third at 23.8 percent (a 12.9-point gap).
· In 1948, the 8th CD Republican primary found William Berlin defeating former U.S. Rep. William Pittenger by a 37.0 to 35.7 percent margin, with James Vaughan in third place at 27.3 percent (9.7 points behind the winner).
· In 1944, the 8th CD DFL primary was won by William McKinnon with 33.7 percent, E.J. Larsen at 25.0 percent, and Arthur Smythe at 22.4 percent (11.3 points back).
The last time the difference between first and third place was less than 8.8 points in a Minnesota U.S. House primary election was was in 1942 – two years before the DFL merger.
In the Republican primary of the 9th CD that cycle, John Paddon won a five-candidate race with just 28.7 percent of the vote with Ole Sageng at 22.4 percent and E.L. Tungseth at 20.0 percent – 8.7 points behind Paddon. (Philip Monson came in fourth with 19.6 percent and Henry Nycklemoe fifth at 9.3 percent).
Farmer-Laborite (later turned Republican) Harold Hagen defeated Padden by 0.8 points in the general election with no Democratic candidate in the race.
Interestingly, none of these aforementioned primary winners emerged from their narrow plurality victories to win their respective general election race.
Nolan hopes to change that in his 2012 comeback bid.
Follow Smart Politics on Twitter.