Third Parties Vanish from Minnesota's 2012 US House Races
There are 11 fewer independent and third party candidates running for Minnesota's eight congressional seats in 2012 compared to two years ago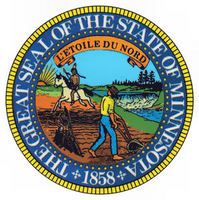 Although Minnesota has a reputation for embracing third parties, that reputation has taken a bit of a step back in the Gopher State's congressional races this November.
After fielding 13 third party and independent candidates in the 2010 cycle for the state's eight U.S. House contests, just two are running this year according to the Minnesota Secretary of State's office.
That marks the fewest number of non-major party candidates running in Minnesota for its U.S. House seats since 1990 when no third party or independent candidates appeared on the ballot. (Two such candidates also appeared on the ballot in 1994).
The two candidates running in 2012 are both from the Independence Party.
Steve Carlson is seeking a rematch in the 4th Congressional District race against DFL incumbent Betty McCollum, while Adam Steele is running in the 7th CD challenging DFLer Collin Peterson.
Carlson received 6.1 percent of the vote in 2010 in a race that held McCollum to under 60 percent for just the second time in her congressional career.
In 2010, the Independence Party ran candidates in seven districts – up from four in 2008, three in 2004 and 2006, and one in 2002.
The 13 third party and independent candidates on the ballot in 2010 was the third largest number since the end of Franklin Roosevelt's first term during the Great Depression.
Since 1936, the only two cycles in which more non-major party candidates ran for U.S. House seats in Minnesota was 1992 (with 16 candidates) and 2000 (14).
In other sobering third party news:
· After running eight candidates in the 1998 and 2000 cycles the Libertarian Party has not appeared in a U.S. House contest since.
· The Constitution Party ran candidates in six districts in 2000 but has only fielded two candidates across the last five cycles.
· The Green Party has not fielded a candidate in a U.S. House race in the state since 2006.
When Minnesotans found 16 non-major party candidates running for the house in 1992 there were four independents, three each from the Grass Roots and Natural Law parties, two Socialist Workers, and one each from New Alliance, Term Limits, Independents for Perot, and Perot Choice.
In 1934, there were also 16 such candidates: nine Farmer-Laborites, four communists, two independents, and one socialist.
Follow Smart Politics on Twitter.