Will a Libertarian Tilt Missouri's U.S. Senate Race?
The victory margin in only 1 of 37 Missouri U.S. Senate races has been narrower than the vote received by the leading third place candidate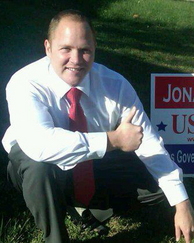 A new report by The New Republic published on Monday profiled the third candidate who will be on the ballot in the high profile U.S. Senate battle between one-term Democratic incumbent Claire McCaskill and Republican establishment-disowned GOP nominee Todd Akin.
The report speculated how that candidate, Libertarian Jonathan Dine, might be the difference maker in November's race.
The theory is that disgruntled Akin voters who cannot bring themselves to vote for McCaskill now have an alternative in the Libertarian candidate.
And while Dine pulled in 3.0 percent during his 2010 U.S. Senate run and the last few polls show the race within low single digits, there has been little historical precedent in the Show Me State that points to third party candidates swinging a senate race.
A Smart Politics review of Missouri U.S. Senate election data finds that of the 37 general and special election contests held since 1914, the victorious candidate received a majority of the vote in 34 of them.
This means that in these 34 contests, the sum of all third party votes, even if each one were cast against the losing second place finisher, did not alter the outcome of the race.
Of the three remaining races in which the winning candidate did not receive 50 percent of the vote, two occurred over the last decade:
· Republican Jim Talent's special election win with 49.8 percent of the vote in 2002 over Democratic incumbent Jean Carnahan.
· Claire McCaskill's victory over Talent four years later in 2006 with 49.6 percent of the vote.
In both of those contests, however the victory margin was larger than the vote received by the third place finisher – libertarians in both cases.
In 2002, Talent defeated Carnahan by 1.13 points with Libertarian nominee Tamara Millay coming in third with just 0.98 percent of the vote.
In 2006, McCaskill defeated Talent by 2.27 points with Libertarian Frank Gilmour receiving the support of 2.25 percent of Missouri voters on Election Day.
That leaves just one race out of 37 in Missouri history since the introduction of popular vote U.S. Senate races 98 years ago in which it could be theoretically argued that a third party candidate altered the outcome of a race.

That race took place in 1944.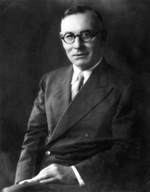 In that cycle, two-term Democratic incumbent Joel Bennett failed to receive his party's nomination, losing by 5.5 points to Missouri Attorney General Roy McKittrick (pictured).
McKittrick squared off in the general election against Republican Governor Forrest Donnell.
Donnell ended up defeating McKittrick by just 1,988 votes, or 0.13 percentage points, 49.95 to 49.82 percent.
Also running in that race were two left of center third party candidates: Socialist Party nominee Doris Preisler and Socialist Labor nominee William Cox.
Cox only received 215 votes, but the 3,320 votes received by the Preisler was 1,300+ votes greater than Donnell's victory margin over the Democratic nominee McKittrick.
That marks the only election cycle in which it can at least be theoretically speculated that a general election outcome was tipped by a third party candidacy in a Missouri U.S. Senate race.
In the most recent poll to include his name among the candidate choices, Dine was the candidate of choice for 4 percent of likely voters.
That poll, by SurveyUSA, was conducted a week before Akin's controversial comments about rape and pregnancy.
Follow Smart Politics on Twitter.