Through the Dark-Colored Lenses of Mark Dayton
"Death," "dead end," "decline" and "grim future" were but a few of the words and phrases Minnesota's governor used to frame the problems of his state and country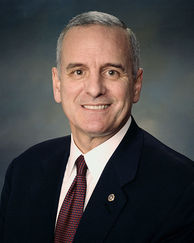 The subject of Minnesota Governor Mark Dayton's speech at the Humphrey School of Public Affairs Wednesday afternoon was on the challenges and opportunities facing the Gopher State.
However, while the DFL governor did highlight a few success stories taking place in the Gopher State, the majority of his 25-minute talk was peppered with pessimism and examples of governmental policy gone awry – particularly on the economic front.
Dayton's doom and gloom rhetoric was meant, of course, for a larger purpose, and that was to gather support for the state (and government generally) to back his policy agenda.
That agenda was outlined at the end of his speech in three main points: higher taxes for the wealthy, greater investing in education, and increasing investments in infrastructure.
But before the governor outlined this agenda moving forward, he referenced historical examples of fallen empires and made dire predictions about the potential demise of the United States.
All the while, Dayton connected the past to the present to the future with a string of dire, pessimistic words and phrases.
Here is a sampling:
Rough ride
Difficult
Decline
Challenging era
Fiscal irresponsibility
Recessionary
Great squandering
Gimmicks
Draconian cuts
Drastic
Death
Peril
Loss of revenue
Downward spiral
Further in arrears
The hole we've dug
Adversity
Can't escape
Diminished
Regressivity
Hitting people between the eyes
Upset
Don't have any control
Out of reach
Unsustainability
Institutions will collapse
Mismatch
Burden
Hitting your head against a stone wall
Falling behind
Terrible and tragic oversight
Looking at a grim future
Dead end
On the state of politics, Dayton summed up that history proves "No good deed goes unpunished, no misdeed goes unrewarded."
And on policy, should his proposed budget reforms not be enacted: "In my view, this unwillingness to pay taxes – and seen as a threat to our freedom and our liberty and our way of life – to me is going to be the death of this country if it's not corrected."
While Dayton received a warm reception at the University despite the pervasive negative tone of his speech, it is clear the governor does not subscribe to the Ronald Reagan school of public speaking.
Follow Smart Politics on Twitter.