Two-Candidate Race a Rarity in Minnesota's 5th Congressional District
The Minneapolis area congressional district had fielded 16 third party and independent U.S. House candidates over the last eight cycles, averaging 9 percent of the vote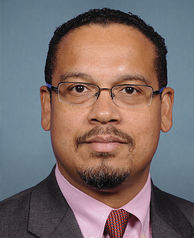 For the first time in 18 years, voters in Minneapolis will only have two choices on their ballot for U.S. Representative.
Three-term DFL incumbent Keith Ellison is being challenged by Republican and Marine Corps veteran Chris Fields, without any third party or independent candidates filing this cycle.
The state's 5th CD had been Minnesota's hub for third party candidacies over the last two decades.
In 2010, three alternative party candidates combined to win 8.1 percent in the district – the largest number of candidates and highest cumulative percentage of non-DFL/GOP vote received throughout Minnesota's eight congressional districts.
From 1996 through 2010, 16 third party and independent candidates ran in the 5th CD averaging 8.9 percent of the vote, beginning with 7.0 percent in 1996, 5.4 percent in 1998, 8.0 percent in 2000, 7.0 percent in 2002, 5.7 percent in 2004, 23.0 percent in 2006, 6.9 percent in 2008, and 8.1 percent in 2010.
Only one other district in the state has reached double-digits in the number of independent and third party candidates during this span: the 4th CD with 13 such candidates.
The state's 8th CD is next with nine candidates from 1996-2010 followed by the 2nd CD with eight, the 6th CD with seven, the 1st CD with six, and the 3rd and 7th CDs with five each.
Only two candidates from outside the DFL and Republican parties will be on the ballot across the Gopher State's eight U.S. House contests this November – down from 13 two years ago.
Independence Party nominee Steve Carlson is running for a second consecutive cycle in the 4th Congressional District race against DFL incumbent Betty McCollum, while IPer Adam Steele is running in the 7th CD challenging DFLer Collin Peterson.
Minnesota's 5th CD has been under DFL control since the Election of 1962, when future Minneapolis Mayor Don Fraser narrowly defeated 10-term Republican Congressman Walter Judd by 3.7 points.
Follow Smart Politics on Twitter.