Will Iowa Republicans Lose Every US House Seat for the First Time in History?
Republicans have won at least one U.S. House seat from the Hawkeye State since 1856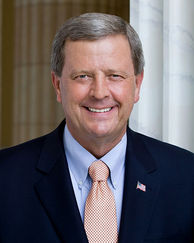 When reapportionment reared its ugly head after the 2010 U.S. Census – cutting Iowa's seventh seat in the nation's lower legislative chamber since 1930 – that meant five incumbents would be fighting for four seats come November 2012.
And while it is certainly possible Democrats could be down a seat after Election Day, there is also a chance history might be made on the Republican side.
A Smart Politics review of Iowa U.S. House elections data finds that Republicans are at risk of failing to win a congressional district seat in a general election for the first time since the founding of the party.
(Note: In the 1854 cycle, just months after the formation of the Republican Party, the GOP did not field a candidate in both of the state's congressional races as Whig James Thorington ran and won in the 2nd CD. The 1856 cycle was the first in which Republicans began fielding candidates in all districts and have won at least one seat ever since).
Overall, Republicans have won 80.3 percent of the 656 general and special U.S. House races in Iowa history (527) dating back to 1846.
Democrats have won just 124 (18.9 percent) with other parties winning five (0.8 percent).
Democratic incumbents Bruce Braley and David Loebsack are heavily favored to retain their seats and return to D.C. for their fourth terms from the 1st and 2nd CDs respectively.
In the state's 3rd District, perennial GOP target eight-term Democratic U.S. Representative Leonard Boswell has suffered from an extreme fundraising deficit (by more than a 2:1 margin through June 2012) to nine-term Republican U.S. Representative Tom Latham (pictured at top) in an incumbent vs. incumbent matchup.
However, Roll Call recently moved the race from "leans Republican" to "tossup," and Iowa political observers know all too well the cat-like Boswell may not have used up all nine of his political lives.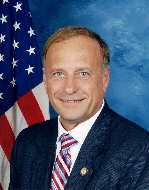 But the race that is receiving the lion's share of attention is the 4th CD contest where one of the most outspoken conservative members of the U.S. House, five-term GOPer Steve King, is facing the fight of his life against Iowa's former Democratic First Lady Christie Vilsack.
Unlike Boswell, Vilsack has kept pace with her Republican opponent – with both eclipsing $2 million in total funds by the end of the 2nd quarter of this year.
Most prognosticators still rate the district as leaning Republican, but two new Democratic-sponsored polls found Vilsack within two and three points respectively while a recent Republican-sponsored survey gave King a seven-point advantage.
Obama will likely need to carry the Hawkeye State in order for the GOP to lose both of these races – although even with an Obama victory there is no guarantee Latham and King will lose.
Of course, for Republicans to even be in this vulnerable position says as much about the depletion of seats in Congress Iowa has endured over the last 80 years as the health of the Republican Party in the state.
Iowa's footprint in the U.S. House has been slashed by 64 percent since 1930 from 11 to four seats.
The low-points for GOP representation in the state's U.S. House delegation occurred after the Democratic landslides of 1964 and 1974 when Republicans won just a single seat each cycle (Harold Gross and Chuck Grassley respectively).
The Democratic Party has endured several long droughts in Hawkeye State congressional races, failing to win a single seat from 1856 to 1876 (0 wins, 65 losses), 1894 to 1900 (0 wins, 46 losses), 1916 to 1928 (0 wins, 80 losses), and 1942 to 1954 (0 wins, 57 losses).
Democrats have won a majority of the state's U.S. House seats for three consecutive cycles – the party's longest such streak since the Democratic landslides in 1932, 1934, and 1936.
Follow Smart Politics on Twitter.