Romney Makes the Most of His 47 Percent (Allotted Speaking Time)
The president receives more than 4 minutes more face time than Romney during the first debate, or a 12 percent greater amount than the GOP nominee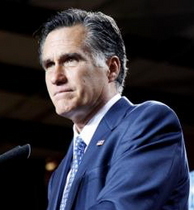 In a debate in which both candidates were supposed to receive equal speaking time, President Barack Obama was given 12 percent more airtime Wednesday evening at the first presidential debate at the University of Denver in Colorado.
Obama spoke for 42 minutes and 40 seconds or 52.7 percent of the candidate-allotted speaking time.
And while Romney at times appeared to interrupt moderator Jim Lehrer, perhaps he did so for good reason.
A Smart Politics analysis finds that Mitt Romney spoke for 38 minutes and 14 seconds, or 47.3 percent of the candidate-allotted speaking time – a full four minutes and 26 seconds less than Barack Obama.
During the Republican primary debates, Romney frequently was given the most speaking time – doing so in 11 of the last 16 such debates held over the last five months of the campaign.
With largely negative reviews coming in grading his performance, the president seemingly did not benefit from the extra stage time he received Wednesday evening.
Obama gave answers of more than two minutes in length on 13 occasions, compared to just eight times for Romney.
The president spoke for more than two and a half minutes six times with Romney doing so just twice.
Lehrer, meanwhile, seemed to disappear and at times lose control of the debate – speaking significantly less than debate moderators from the GOP primaries this cycle.
Lehrer spoke for just 8 minutes and 10 seconds, or 9 percent of the total time between himself and the two nominees.
During the GOP presidential primary debates, moderators spoke for an average of twice that amount (19.8 percent) ranging from a high of 27 percent to a low of 14 percent.
Follow Smart Politics on Twitter.