The Eyes Have It: Obama Blinks 1,000 Times More than Romney During 1st Debate
The president blinked at a rate of 71 times per minute while speaking during Wednesday's debate – 1,000 times more than Romney (53 per minute)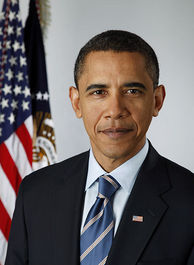 Mitt Romney almost universally received the nod as the winner of the first presidential debate – not simply for scoring the most political points, but also in terms of style.
For while Romney seemed in his element, Barack Obama was criticized for appearing uncomfortable, grim, and dour – and was often caught looking down at his notes, particularly during split-screen shots.
But there was another facet of the president's non-verbal communication that may have contributed to the general feeling of uneasiness Obama projected during the debate.
He blinked too much.
A Smart Politics analysis of the first presidential debate finds that Barack Obama blinked at a rate of 70.8 times per minute while speaking and tallied 1,000 more blinks than Mitt Romney during the broadcast.
Obama blinked 3,020 times while speaking during the 90-minute debate compared to just 2,018 times for Romney.
That calculates to a rate of 70.8 blinks per minute for the president and 52.8 for Romney, and 1,002 more on-camera blinks for the President than the former Massachusetts governor.
Various studies have shown the average person blinks at a rate of approximately 20 to 25 times per minute, so both candidates were batting their eyelids at an elevated rate – with Obama doing so at about three times the average rate.
This non-verbal cue conforms with several observations that have been made about the President's performance on Wednesday – such as the frequent "umms" and "ahhs" he uttered during the debate – as he seemingly struggled to get his bearings and formulate his arguments against Romney who appeared much more focused.
Various external factors can contribute to elevated blinking rates, such as wearing contacts or, in this case, perhaps the bright lights of the staged televised event.
And, of course, some individuals may experience an increased rate simply due to nerves or being placed in an uncomfortable situation.
However, a previous Smart Politics report from a Republican primary presidential debate in January found a wide variation in the blinking rate among the six GOPers on stage, from a low of just 15.9 blinks per minute by Rick Perry to a high of 61.4 by Rick Santorum.
During that debate, Romney clocked in at 33.9 blinks per minute – much lower than his 52.8 on Wednesday.
Obama's peak blinking rate of 88.8 times per minute occurred during one of the few aggressive segments for the President during the debate in which he attacked Romney for changing his tax plan and for suggesting wealthy individuals like Donald Trump were small business owners.
His lowest rate (60.3 blinks per minute) took place when he addressed corporate taxes and tax breaks for companies like Exxon Mobil.
Despite the clear impression that Romney controlled the debate, a Smart Politics report found President Obama received nearly four and one-half more minutes in speaking time than his Republican opponent.
Blinks Per Minute of Speaking Time During the First Presidential Debate
Nominee

Blinks

Minutes

Per Minute

Barack Obama

3,020

42:40

70.8

Mitt Romney

2,018

38:14

52.8
Data excludes the small percentage of time in which candidates were not caught on camera while speaking due to cutaways to other candidates, shots from behind the candidate's head, or distant shots from the back of the auditorium. Data compiled by Smart Politics.
Follow Smart Politics on Twitter.