Did Bill Clinton Launch the First "Leave Big Bird Alone" Campaign?
Nixon, Reagan, Bush 41, and Obama all praised Sesame Street during their administrations, but only Clinton cited Muppets by name, rallying to Big Bird's defense during the 104th Congress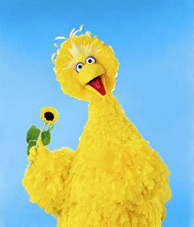 Despite professing "I love Big Bird" at the first presidential debate, Mitt Romney's subsequent statement to defund PBS has spurred an outcry from some quarters and dozens of Big Bird-related memes.
The discussion as to whether or not public broadcasting should be funded by the federal government has bubbled up throughout the last few decades.
But by mentioning Big Bird, Romney did something that only one president has ever done over the 13 administrations since Sesame Street first hit the airwaves in 1969: reference a Muppet by name.
A Smart Politics review of presidential speeches and papers finds that only one president – Bill Clinton – has ever championed individual Muppets, with Big Bird being his go-to character in defending federal funding of public broadcasting.
There have been eight presidents and 13 administrations since Sesame Street began its long run in November of 1969 with Richard Nixon in the White House.
Several of these presidents publicly championed federal funding of public broadcasting including mentioning Sesame Street by name.
But only Bill Clinton publicly demonstrated a working knowledge of any of the Muppet stars on that program.
Clinton spoke of specific Muppet characters five times during his presidency – all during the 104th Congress after the Republican Revolution of 1994.
Clinton referenced Big Bird in each speech, with Cookie Monster, Grover, and Kermit each getting one mention.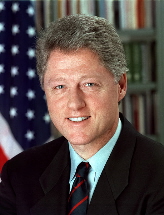 The first time Clinton mentioned Big Bird was on January 21, 1995 in a critique of the new Republican leaders in Congress to the Democratic National Committee:
"It's a funny world, that world they're sketching, a world in which Big Bird is an elitist and rightwing media magnates are populists. It's an interesting world. I'm still trying to get it, but I'm working at it real hard." – Bill Clinton, January 21, 1995
Later that summer, Clinton took to Big Bird's defense once again while advocating for the continued federal funding of public television in what he called the "Leave Big Bird alone campaign."
"First of all, in the spirit of alternatives and celebrating what is good, I'm for balancing the budget, but I'm against getting rid of public television or dramatically cutting it. In our family this is known as the "Leave Big Bird Alone" campaign." – Bill Clinton, July 10, 1995
In September 1995, Clinton must have ruffled the feathers of some calling for the defunding of public broadcasting when he gave the Presidential Medal of Freedom to Joan Ganz Cooney, who launched the Children's Television Workshop (which produced Sesame Street) in the late 1960s:
"In 1968, she launched the Children's Television Workshop, and a whole new landscape of joyful education opened up before our children's eyes. Out of this effort came "Sesame Street," "The Electric Company," "3-2-1 Contact," and other programs that enlighten not only our youngsters but older people as well. With a host of lovable characters like the Cookie Monster and Big Bird, who became as familiar to me at one point in our family life as the people I grew up with these shows have helped teach a generation of children to count and to read and to think. They also teach us more about how we should live together. We all know that Grover and Kermit reinforce rather than undermine the values we work so hard to teach our children, showing kids every day what it means to share, to respect differences, and to recognize that it's not easy being green." – Bill Clinton, September 29, 1995
But the defense of Big Bird was only getting started.
At a DNC dinner in Columbus, Ohio in March of 1996, Clinton quoted Ohio U.S. Senator John Glenn who had previously attacked Newt Gingrich with a now famous line:
"I'll tell you, I've been around John Glenn a lot; that's the best darn speech I ever heard him give. Let me see if I can remember that, "You don't make America stronger by taking Big Bird away from 5-year-olds, school lunches away from 10-year-olds, summer jobs away from 15-year-olds, or student loans away from 20-year-olds." That's a pretty good line. That's a good line." – Bill Clinton, March 23, 1996
Just a few days before his reelection victory, Clinton resurrected Senator Glenn's line during another speech in Columbus at Ohio State University:
"I would be screaming, too, if I wanted a country that took Head Start and Big Bird away from 5-year-olds, school lunches away from 10-year-olds, summer jobs away from 15-year-olds, and college loans away from 20-year-olds. I might be screaming, too." – Bill Clinton, October 29, 1996
President Barack Obama will likely recite a Big Bird refrain or two during the last month of the campaign, and is already one of five presidents who has publicly discussed Sesame Street.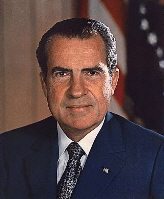 Although written in a veto of a public broadcasting bill, the first presidential reference to Sesame Street was by Richard Nixon:
"Public broadcasting can and does make important contributions to our Nation's life by presenting educational and cultural programs of diversity and excellence. Programs such as "Sesame Street" and "The Electric Company" already have begun to repay the far-sighted decision the Nation made in the 1950s when channels were reserved for educational purposes. Public broadcasting deserves to be continued, and to be strengthened." – Richard Nixon, June 30, 1972
Shortly before his reelection victory, Nixon once again praised the CTW program as he took to the radio airwaves in an address on the federal responsibility to education:
"Now, here are some of the important achievements which have resulted during this Administration, following the philosophy I have just outlined: For younger children: … And we have given greater support and encouragement to successful educational innovation, including television programs like "Sesame Street" and "The Electric Company." – Richard Nixon, October 25, 1972
Presidents Ford and Carter did not publicly discuss Sesame Street, but Ronald Reagan touted it as an important tool in the cultural exchanges he advocated between the Soviets and Americans.
From an address to the nation on the Soviet-U.S. Summit Meeting in Geneva:
"Imagine if people in our nation could see the Bolshoi Ballet again, while Soviet citizens could see American plays and hear groups like the Beach Boys. And how about Soviet children watching "Sesame Street." – Ronald Reagan, November 14, 1985
Reagan's successor, George H.W. Bush, mentioned Sesame Street on three occasions:
"Let me begin by asking you to look at yourselves and say, what do you see? You see some of our best and brightest young people. You see living educational success stories. You see our hope for an exciting and rich future…Then there's another, Kai Ng of Illinois. Kai, where are you? Right there. Coming here from Hong Kong in 1974, she learned English from her sister and "Sesame Street." She can tell you how you can do it. That's the same place I'm trying to learn how to run a computer." – George H.W. Bush, June 16, 1991
"So looking forward to today, for a few minutes I was a hero with one of my young grandkids, younger guy than you. When I told her I was going to be on television, she thought I'd finally made it on to "Sesame Street." – George H.W. Bush, September 17, 1991
"So when the Democrats leave Washington next week, or in the next few days, I'm asking Bob Dole, Bob Michel, and all the other Republicans to sneak up to Capitol Hill and pass the 28th amendment, lowering the voting age to 5-year-olds. Let Governor Clinton take his saxophone and go after the MTV vote — we'll tear him apart on "Sesame Street." – George H.W. Bush, October 8, 1992
And as for Clinton?
The motivation of the 42nd President's staunch defense of Big Bird and Sesame Street is revealed in two speeches in 1996:
"You know, I had a pretty good education, but I learned a lot because Chelsea was into "Sesame Street" and "Where in the World Is Carmen San Diego?" – Bill Clinton, July 29, 1996 (remarks at the Children's Television Conference)
"We know that television can be a positive force or a destructive force in the lives of our children. Every parent knows that exposure to TV violence can be numbing and send the wrong message to their kids. And parents whose children grew up watching programs like "Sesame Street," as our daughter did, know that television can teach as well as entertain." – Bill Clinton, October 15, 1996 (remarks on the Second Annual Report on Television Violence in Albuquerque)
As for Obama, he has mentioned Sesame Street twice as president prior to the Romney "Big Bird" flare up:
"Today we are launching the "Educate to Innovate" campaign, a nationwide effort to help reach the goal this administration has set: moving to the top in science and math education in the next decade…Sesame Street has begun a 2-year initiative to teach young kids about math and science." – Barack Obama, November 23, 2009 (remarks on the "Educate to Innovate" Campaign)
"When Yo-Yo Ma took his first cello lesson, there wasn't a chair short enough for him, so he sat on three phone books instead…He's been named one of People Magazine's sexiest men alive. He's appeared on "Sesame Street"–I thought about asking him to go talk to Congress." – Barack Obama, December 4, 2011 (remarks at a Kennedy Center Honors Reception)
So, can Obama trump Clinton's "Leave Big Bird Alone" campaign and win that five-year-old vote?
He has 30 days to try.
Follow Smart Politics on Twitter.