New Hampshire to Become 1st State with an All-Female DC Delegation
Democratic pick-ups by Carol Shea-Porter and Ann Kuster in the Granite State's two U.S. House districts gives New Hampshire the nation's first ever all-female D.C. delegation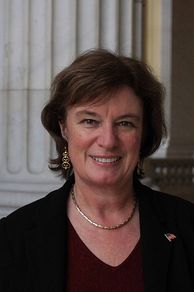 History was made Tuesday night in the state of New Hampshire and it had nothing to do with the presidential race.
In the state's two congressional districts, female Democratic challengers unseated two male Republican incumbents to make the Granite State the first in the nation to be represented entirely on Capitol Hill by female legislators.
Carol Shea-Porter and Ann McLane Kuster will join Democratic U.S. Senator Jeanne Shaheen (elected in 2008) and Republican Senator Kelly Ayotte (elected in 2010) when the 113th Congress convenes on January 3, 2013.
In the 1st CD, Shea-Porter defeated one-term GOP congressman Frank Guinta in a rematch of a contest from 2010. The Democratic challenger led by approximately three points with 80 percent reporting.
Shea-Porter was first elected to the House of Representatives in 2006 by 2.7 points over incumbent Jeb Bradley and defeated Bradley in a 2008 rematch by 5.9 points.
In 2010, Representative Shea-Porter lost her seat to Guinta by 11.6 points.
In the 2nd CD, Kuster, an attorney, defeated Representative Bass by approximately five points in a rematch of a battle from two years ago that Bass won by just 1.6 points.
Bass had served six terms from 1995 to 2007 before losing to Democrat Paul Hodes in 2006.
New Hampshire also elected a female governor Tuesday, Maggie Hassan, who defeated Republican Ovide Lamontagne by double-digits.
Follow Smart Politics on Twitter.