Paul Ryan Survives Closest Win of Congressional Career
Ryan's 11-point victory Tuesday was down nearly 20 points from his previous seven wins in Wisconsin's 1st Congressional District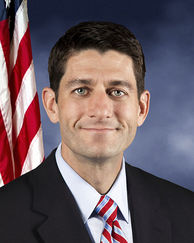 Although Barack Obama's victory was sliced by more than half in Wisconsin from his performance four years ago, Paul Ryan had his least impressive congressional win dating back to his first victory to the U.S. House 14 years ago.
Obama won the Badger State by 6.7 points over Mitt Romney, compared to 13.9 points over John McCain in 2008.
But Ryan – who represents a moderate district in southern Wisconsin – was unable to leverage this closer presidential race into padding his own reelection numbers.
A Smart Politics review of Wisconsin election data finds Paul Ryan won his narrowest ever congressional contest in 2012 – nearly 20 points closer than his average victory margin during his previous seven wins since 1998.
Representative Ryan defeated Democrat Rob Zerban by just 11.5 points – down from 29.3 points four years ago when Obama won Wisconsin by double digits.
Ryan's win Tuesday was also the most narrowly decided in the state for the first time in his congressional career.
Freshman Republican Reid Ribble had the second narrowest victory at 11.8 points in the state's 8th CD with freshman GOPer Steve Duffy winning by 12.2 points in the 7th CD.
Prior to joining the Romney presidential ticket, Ryan had won his congressional district by an average of 30.0 points.
Ryan's victory in the 1st CD was also the closest race among the state's eight U.S. House contests this cycle – another first for the rising GOP star. (Note: The state's newly-drawn 1st CD included residents of the same six counties as it did prior to redistricting: Racine, Kenosha, Milwaukee, Walworth, Rock, and Waukesha).
Ryan first won his 1st CD seat in 1998 by 14.4 points with 57.1 percent of the vote over Democrat Lydia Spottswood.
As a freshman in the House in 2000, Ryan doubled up on his opponent Jeffrey Thomas with 66.6 percent of the vote and a 33.3-point margin of victory en route to reelection.
After redistricting in 2002, Ryan increased that margin in his rematch against Thomas with a 36.6-point win and 67.2 percent of the vote.
In his third consecutive race against Thomas in 2004, Congressman Ryan won 65.4 percent of the vote and a 32.8-point victory.
During the Democratic wave of 2006, Ryan was still able to win a 25.4-point victory in his fourth contest against Thomas, tallying 62.6 percent of the vote.
The 2008 cycle brought another Democratic wave and a new challenger in Marge Krupp, but that did nothing to change Ryan's fortunes: he notched a 29.3-point win with 64.0 percent of the vote.
During the Republican tsunami of 2010 Ryan cruised to a 38.1-point win over John Heckenlively with a career-best 68.2 percent of the vote.
Romney's defeat in Wisconsin marks the first time since beofre World War II that a presidential ticket has lost the home state of a Midwestern VP nominee, ending a streak of eight wins in a row:
· 1944: Democrat Harry Truman (Missouri) with Franklin Roosevelt
· 1944: Republican John Bricker (Ohio) with Thomas Dewey
· 1964: Democrat Hubert Humphrey (Minnesota) with Lyndon Johnson
· 1976: Republican Bob Dole (Kansas) with Gerald Ford
· 1976: Democrat Walter Mondale (Minnesota) with Jimmy Carter
· 1980: Democrat Walter Mondale (Minnesota) with Jimmy Carter
· 1988: Republican Dan Quayle (Indiana) with George H.W. Bush
· 1992: Republican Dan Quayle (Indiana) with George H.W. Bush
Overall, however, presidential tickets have carried the vice-presidential nominee's home state just 53 percent of the time since the founding of the Democratic Party in 1828 (56 of 105 tickets).
Paul Ryan's U.S. House Electoral History, 1998-2012
Cycle

Ryan

Democrat

MoV

MoV Ave in WI

Ryan WI MoV Rank

2012

54.9

43.4

11.5

26.0

8 of 8

2010

68.2

30.1

38.1

25.7

4 of 8

2008

64.0

34.7

29.3

36.3

4 of 8

2006

62.6

37.2

25.4

34.8

7 of 8

2004

65.4

32.6

32.8

37.7

6 of 8

2002

67.2

30.6

36.6

52.6

5 of 8

2000

66.6

33.3

33.3

33.0

4 of 9

1998

57.1

42.7

14.4

37.2

7 of 9
Data compiled by Smart Politics.
Follow Smart Politics on Twitter.