Romney Suffers 2nd Worst Home State Loss in Presidential Election History
Only John Frémont in 1856 lost his home state by a larger margin than Romney out of the 100 major party presidential nominees on the ballot since the formation of the Democratic Party in 1828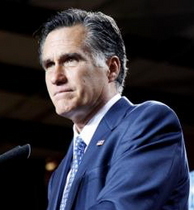 Although there was little doubt that Barack Obama would carry the deep blue state of Massachusetts this election cycle, Mitt Romney might not have expected to lose his home state quite as badly as he did on Tuesday.
With more than 95 percent of the vote counted in the Bay State, Romney trailed Obama by a 23.4-point margin.
With just 37.5 percent of the vote to his name, Romney barely moved the needle on John McCain's performance in the state in 2008.
The Arizona U.S. Senator won 36.0 percent of the vote in Massachusetts four years ago – losing by 25.8 points to Obama who notched 61.8 percent of the vote.
Obama netted approximately 61 percent in the state on Tuesday.
And the result was a near-historic blow-out.
A Smart Politics analysis finds the 23-point deficit by Romney in Massachusetts makes his home state performance the second worst in history by any major party presidential nominee since the formation of the Democratic Party in 1828.
The only presidential candidate to suffer a larger home state loss was the first-ever Republican nominee, John Frémont of California.
Frémont received only 18.8 percent of the vote in California in 1856, good for a distant third place behind Democrat James Buchanan and third party candidate and former president Millard Fillmore.
Frémont lost to Buchanan by 29.6 points that cycle.
In addition to Romney and Frémont, the only other major party nominees to lose their home state by double-digits are:
· Democrat James Cox of Ohio in 1920: by 19.9 points to Warren Harding (also from Ohio)
· Democrat Adlai Stevenson of Illinois in 1956: by 19.2 points to Dwight Eisenhower
· Republican Herbert Hoover of Iowa in 1932: by 17.7 points to Franklin Roosevelt
· Republican William Taft of Ohio in 1912: by 14.2 points to Woodrow Wilson
· Democrat Woodrow Wilson of New Jersey in 1916: by 11.7 points to Charles Hughes
· Democrat Alton Parker of New York in 1904: by 10.9 points to Teddy Roosevelt (also from New York)
Progressive nominee Teddy Roosevelt also lost his home state of New York in 1912, by 16.7 points to Woodrow Wilson.
President Obama carried his home state of Illinois in 2012 with 57.1 percent of the vote and 16.2 points over Romney – down from 61.9 percent and a 25.1-point win over John McCain in 2008.
Follow Smart Politics on Twitter.