Dean Heller Makes History in Nevada
Heller is the first Republican in Nevada to be elected to the U.S. Senate while the state votes for the Democratic presidential nominee since the introduction of popular vote elections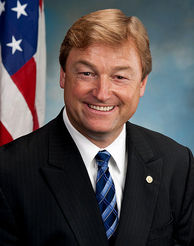 Although the race may have been a bit closer than analysts projected early this autumn, incumbent Republican U.S. Senator Dean Heller was able to eke out a victory over Democratic U.S. Representative Shelley Berkley by 12,100+ votes in Nevada on Tuesday.
But Heller did so under unusual circumstances in the Silver State.
A Smart Politics review of Nevada election data finds that Dean Heller is the first Republican U.S. Senator to be elected when a Democratic presidential nominee carried the state at the top of the ticket since the state's 1908 ballot measure in which residents first voted for candidates to the nation's upper legislative chamber.
With just 45.9 percent of the vote, Heller ran only 0.2 points ahead of Romney, who lost the state by 6.6 points to President Obama.
But that was just enough support to save the seat for the GOP, with Berkley at 44.7 percent, Independent American candidate David Vanderbeek receiving 4.9 percent, and 4.5 percent of Nevadans opting for 'none of the above.'
Prior to Tuesday, Nevada was one of 18 states that had never split their ticket for a Democratic presidential nominee and a Republican U.S. Senator since popular vote elections were introduced a century ago.
The other 17 states are: Alabama, Alaska, Arizona, Connecticut, Indiana, Louisiana, Michigan, Mississippi, Montana, North Carolina, South Carolina, Texas, Utah, Virginia, West Virginia, Wisconsin, and Wyoming.
Overall, Nevadans have voted for both the Democratic presidential and U.S. Senate nominees in eight cycles (1908, 1912, 1916, 1932, 1940, 1944, 1964, 1992), for both Republican nominees in four cycles (1920, 1952, 1980, 2000), and for the Republican presidential nominee and the Democratic U.S. Senate nominee in six cycles (1928, 1956, 1968, 1976, 1988, 2004).
The previous four Republican U.S. Senators from Nevada elected during a presidential election cycle were Tasker Oddie in 1920 (with Warren Harding at the top of the ticket), George Malone in 1952 (Dwight Eisenhower), Paul Laxalt in 1980 (Ronald Reagan), and John Ensign in 2000 (George W. Bush).
Oddie, Malone, and Laxalt all benefited from presidential coattails with Harding (+14.8 points), Eisenhower (+9.6 points), and Laxalt (+4.0 points) all running ahead of the senate nominees in the state.
Ensign ran 5.6 points ahead of Bush in the state in 2000.
In addition to Heller and Ensign, four other Republican senate nominees have run ahead of their party's presidential nominee in the state: William Massey in 1912 (+23.4 points ahead of William Taft), Tasker Oddie in 1932 (+17.3 points ahead of Herbert Hoover), Paul Laxalt in 1964 (+8.6 points ahead of Barry Goldwater), and Demar Dahl in 1992 (+5.5 points ahead of George H.W. Bush).
Follow Smart Politics on Twitter.