Record-Setting 3rd Party and Independent Candidacies Abound in 2012 US Senate Races
Five candidates set all-time statewide records for non-major party candidates in U.S. Senate races this cycle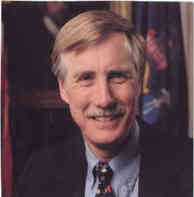 While the big story coming out of last Tuesday's U.S. Senate elections was the Democratic caucus holding onto several vulnerable seats and actually expanding their advantage over the GOP, the 2012 cycle was also a big day for independents and third party candidates.
Not only did two independents in the northeast take home the grand prize, but other non-major party candidates also set statewide marks in Maryland, Missouri, and West Virginia.
The Libertarian Party also turned in its strongest ever performances in five states.
All of these races were ultimately won by candidates who will caucus with the Democratic Party, although few third party and independents tilted the outcome – aside from those who won.
A Smart Politics review of U.S. Senate election data since direct elections were introduced nearly a century ago finds that records were set in five states on November 6th for the largest percentage of the vote ever received by an independent or third party candidate.

At the top of the list are the winning candidacies in Maine and Vermont.
In Maine, former two-term independent governor Angus King easily cruised to a victory in the open seat race, winning 52.9 percent of the vote.
That is more than seven times better than the previous mark held by independent Hayes Gahagan who won 7.4 percent in 1978 in a race won by Republican William Cohen.
In Vermont, independent Bernie Sanders notched 70.4 percent to win his second term to the U.S. Senate. That was a 5.0-point improvement on his 65.4 tally in 2006.
In Maryland, independent Rob Sobhani won 16.8 percent in a four candidate race won by Democrat Ben Cardin – helping to splinter the anti-incumbent vote and give the Republican Party its lowest ever percentage in a U.S. Senate race.
Sobhani bested a mark held for 44 years when American Party candidate George Mahoney received 13.1 percent in the 1968 contest won by Republican Mac Matthias.
In Missouri, Libertarian Jonathan Dine – making his second run for the nation's upper legislative chamber – won 6.1 percent as Democrat Claire McCaskill cruised to a second term.
Dine now holds the best record for a non-major party candidate in the Show Me State as he eclipsed Libertarian Bill Johnson's 4.6 percent tally from 1994 in a contest won by Republican John Ashcroft.
In 2010, Dine captured 3.0 percent of the vote as Republican Roy Blunt won the open seat race.
In West Virginia, Mountain Party candidate Bob Baber received 3.0 percent in a race easily won by Democratic incumbent and former Governor Joe Manchin.
The state has not had a rich history of third party candidates in U.S. Senate races, as Baber eclipsed the previous record held by Libertarian Joe Whelan in 2000 of 2.1 percent as Democrat Robert Byrd won his eighth term.
A sixth noteworthy record took place in Nevada.
In the Silver State's U.S. Senate race, 4.5 percent of voters opted for "none of the above" which is the highest level across the 13 such races that have been conducted with that option on the ballot since 1976.
The largest percentage of Nevadans voting for 'none of the above' was previously 3.6 percent in the 1986 open contest won by Democrat Harry Reid.
Lastly, in addition to the aforementioned Libertarian nominee Dine setting a new benchmark for all non-major party candidates in Missouri, four other candidates set new Libertarian statewide records in U.S. Senate races this cycle.
In Montana, Libertarian Dan Cox won 6.5 percent of the vote – in a race Democrat Jon Tester won by 4.0 points over Republican challenger Denny Rehberg. Cox eclipsed Larry Dodge's 3.9 percent mark from 1982.
In Wisconsin, Joseph Kexel tallied 2.1 percent which more than doubled the previous best performance for a Libertarian Party nominee in the state – 0.8 percent by Tim Peterson in 2000.
In Connecticut, Libertarian Paul Passarelli recorded 1.7 percent of the vote – nearly doubling the previous statewide mark of 0.9 percent for the party held by Howard Grayson for nearly a quarter of a century since 1988.
In Maryland, Dean Ahmad was the first Libertarian ever to appear on the ballot and won 1.2 percent of the vote.
Follow Smart Politics on Twitter.