All-Republican US Senate Delegation Wait Continues in Florida, Wisconsin, North Dakota
The three states have not been represented by two Republicans in the U.S. Senate for a combined 244 years and counting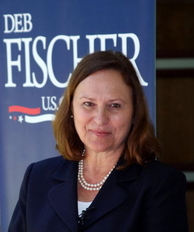 When the 113th Congress convenes in early January, the State of Nebraska will have two Republicans serving in the U.S. Senate for the first time since December 1976.
Deb Fischer easily defeated former two-term Democrat Bob Kerrey last week to join Mike Johanns for the Cornhusker State's first GOP duo in the nation's upper legislative chamber since Roman Hruska and Carl Curtis 36 years ago.
Of the 50 states, Nebraska had held the 18th longest period since the last time it sent two Republicans to the U.S. Senate.
Perhaps the most surprising turn came in North Dakota, where Democrat Heidi Heitkamp edged GOP U.S. Representative Rick Berg by 0.9 points.
North Dakota had an opportunity to send two Republicans to the U.S. Senate for the first time since August 1960 when Milton Young and Clarence Brunsdale served in the chamber.
But Berg's loss means the state with the nation's 12th longest gap will be without an all-Republican delegation to the U.S. Senate for at least another six years.
The Heitkamp-Berg battle was actually only the fourth closest U.S. Senate race in state history behind Republican Milton Young's win in 1974 by 0.1 points over William Guy, Democrat Quentin Burdick's special election victory by 0.5 points in 1960 over John Davis, and Democrat Kent Conrad's win in 1986 by 0.7 points over incumbent Mark Andrews.
Wisconsin was another state where the Republican Party had high hopes, aiming to pick off seats in back-to-back cycles after Ron Johnson defeated three-term Democrat Russ Feingold in 2010.
But seven-term U.S. Representative Tammy Baldwin handed former four-term Governor Tommy Thompson a 5.6-point loss to prevent the GOP from landing both seats in the chamber.
Wisconsin thus retains its hold on the seventh longest period in the nation without both of its U.S. Senate seats claimed by Republicans.
The last time two Republicans held both seats was more than 55 years ago just before Joe McCarthy's death in May 1957 when he and Alexander Wiley represented the Badger State.
Meanwhile, the Democratic hold on political power in the South has slowly faded away in federal and state elections over the last 48 years since the passage of the Civil Rights Act of 1964.
But in Florida, the Republican Party has yet to be able to pry away both U.S. Senate seats from the Democrats during this period.
Last week two-term Democrat Bill Nelson cruised to a 12.8-point victory over congressman Connie Mack, extending the nation's second longest stretch for a state being represented by no more than one Republican.
It has been 137 years since the last time Florida had two GOP U.S. Senators when Abijah Gilbert and Simon Conover served the state in March 1875.
Florida may hold the nation's longest such streak after 2014 when Democrat Mary Landrieu is up for reelection in the deep red state of Louisiana.
One has to go back to January 1872 to find the last time Louisiana had two Republican U.S. Senators.
Rounding out the Top 10 are Arkansas at #3 (March 1885), Montana at #4 (March 1911), Rhode Island at #5 (January 1935), Massachusetts at #6 (January 1953), Michigan at #7 (January 1955), West Virginia at #9 (November 1958), and Connecticut and New Jersey tied for #10 (January 1959).
Two states that are currently represented by two Republicans in the U.S. Senate will lose that distinction in January when Democrat Joe Donnelly and Independent Angus King are seated from Indiana and Maine respectively.
Follow Smart Politics on Twitter.